In this Update:
Senate Majority Policy Committee School Property Tax Elimination Workshop
Property Tax & Rent Rebate Program Accepting Applications
Minsi Lake Refilling Underway Following Dam Rehabilitation Project
PennDOT and My District Offices Closed for Presidents Day
Budget Hearings Begin Tuesday
Around the 40th District
---
Senate Majority Policy Committee School Property Tax Elimination Workshop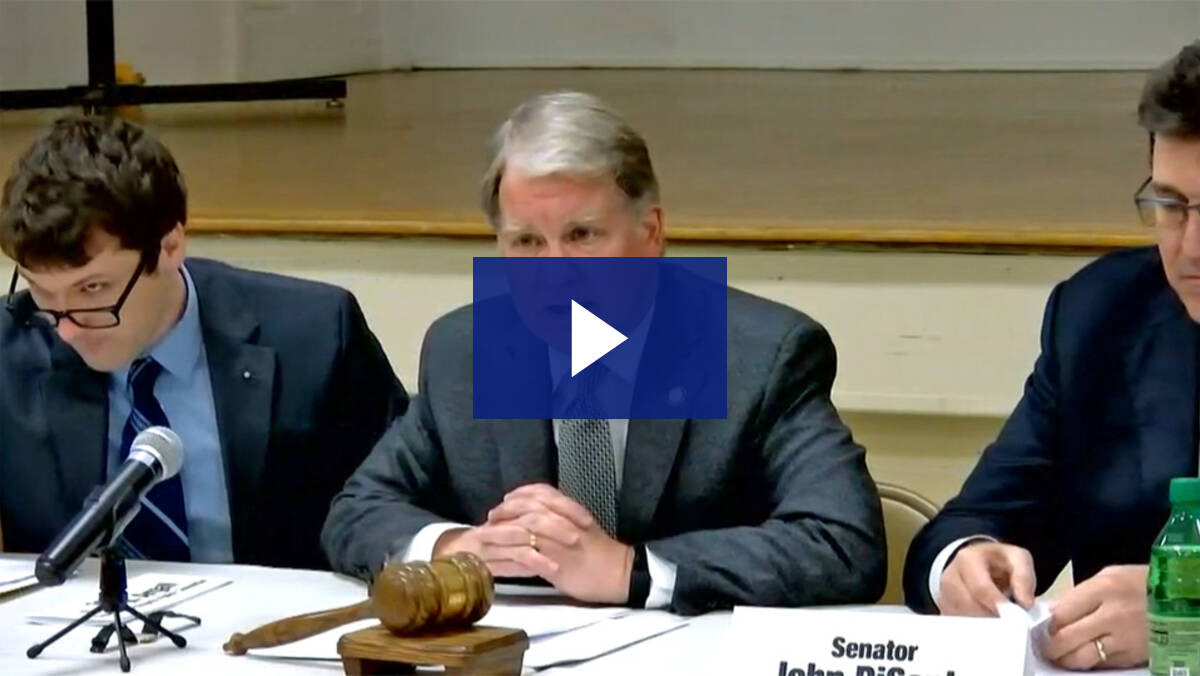 On Wednesday afternoon in Marysville PA, I participated in a public workshop on school property tax elimination. I was happy to join with many of my colleagues and other stakeholders to further the conversation about the urgently needed action on school property taxes. I hope you take a moment to watch the hearing.
Property Tax & Rent Rebate Program Accepting Applications
Applications for the Property Tax/Rent Rebate Program are now available to begin claiming rebates on property taxes or rent paid in 2019. For income-eligible Pennsylvanians age 65 and older; widows/widowers 50 and older; people with disabilities age 18 and older. The maximum standard rebate is $650, but supplemental rebates for certain qualifying homeowners can boost rebates to $975. My staff is ready to help anyone who needs assistance in applying for this rebate. No appointment is needed, just stop by my office with the necessary documentation. More information is available here or by calling either of my district offices.
Minsi Lake Refilling Underway Following Dam Rehabilitation Project
The Pennsylvania Fish and Boat Commission (PFBC) has announced that the refilling of Minsi Lake in Northampton County, is underway following a dam rehabilitation project.
"As the refill process gets underway, people will notice the water level increasing gradually over the next several weeks," said Paul Urbanik, Director of the PFBC's Bureau of Engineering. "It's an exciting time because we're all anxious to see this lake return so that we can enjoy it again, but it's also vital that we control the pace and monitor things closely along the way."
Minsi Lake, a 117-acre impoundment located within Northampton County's Minsi Lake Wilderness Area is fed naturally by East Fork Martin's Creek. The lake was drained in 2017 when the previous dam was deemed structurally deficient. A $4.9 million rehabilitation project was completed in December 2019.
Urbanik expects the lake to refill at a pace of about 2-3 feet per week, with the lake approaching full capacity in approximately 6 weeks. Refilling is intentionally performed slowly to allow the earthen portion of the dam to adequately saturate and to allow engineers to monitor new concrete dam structures which will be placed under a tremendous amount of pressure for the first time as water is introduced. Weekly inspections to ensure safety and monitor performance will be conducted.
Water quality in the lake will be monitored ahead of trout stocking events planned in the coming weeks. Minsi Lake is scheduled to be stocked on March 24, ahead of the Regional Mentored Youth Trout Day on March 28. It will be stocked with Rainbow Trout and golden Rainbow Trout during the preseason period, with additional Rainbow Trout to be stocked throughout the spring and fall.
Minsi Lake is regulated as Stocked Trout Waters and is closed to all fishing (including taking of minnows) from March 1 to 8 a.m. on the respective opening day of the trout season, except for Mentored Youth Trout Day. The lake is also managed under a temporary special fishing regulation requiring catch and release/no harvest for all species except trout. Anglers fishing for trout should follow Commonwealth Inland Waters regulations.
Beginning in spring 2020, PFBC biologists and hatchery staff will begin to implement multi-year restocking plans at Minsi lake, which include the introduction of fingerling-sized warmwater gamefish including largemouth bass, as well as various panfish and minnows. Over time, these stockings will result in self-sustaining populations of fish that contribute to a diverse and successful fishery and regulations will be adjusted to allow for harvest.
PennDOT and My District Offices Closed for Presidents Day
In observance of Presidents Day, all PennDOT driver license and photo centers, including the full-service center in Harrisburg, will be closed Saturday, Feb. 15, through Monday, Feb. 17. Customers may still obtain a variety of driver and vehicle products and services online through PennDOT's Driver and Vehicle Services website, dmv.pa.gov.
My Harrisburg and district offices will also be closed on Monday, February 17. Our offices will re-open Tuesday at 8:30 a.m.
By April 1, 2020, every home in the U.S. will receive an invitation to participate in the 2020 Census. The U.S. Census has been conducted every 10 years since 1790, as mandated by the Constitution. It is a very important undertaking. The count determines the number of seats in the U.S. House of Representatives for each state, and is used to distribute billions in federal dollars to local communities.
Each year, Pennsylvania receives approximately $26 billion in federal funding toward programs like Medicaid, Medicare, SNAP, CHIP, and WIC, as well as grants for education and highway construction. That's equal to over $2,000 per citizen in Pennsylvania.
You can respond by mail, phone, or online. Your personal information is confidential. You can learn more about the census in Pennsylvania, and getting involved with Complete Committees, here.
Budget Hearings Begin Tuesday
As a member of the Senate Appropriations Committee, I'll be taking part budget hearings from Tuesday, February 18 to March 5. You can watch them live at SenatorScavello.com. At the end of each week, I'll send you an update on what was discussed, with hearing summaries and video.
Around the 40th District
Congratulations to Kalahari Resorts on the grand opening of its expanded convention center! I was happy to attend the celebration, where General Manager Daryl Morris was presented with a certificate of recognition. The cost of the expansion was $35 million and the resort can now offer 205,000 square feet of convention space, featuring 25 rooms and 3 ballrooms. The resort is already seeing reservations for these spaces. It is wonderful to see Kalahari continue to invest in our region!
This past Saturday, I joined PA State Rep. Marcia Hahn and Bath Borough Mayor Fiorella to wish a Happy 80th Birthday to Viola Wesner. Wishing Viola many more years of health and happiness!
I recently met with Pack 44 in Bushkill at my office in Pen Argyl. We discussed our government and how a bill becomes a law. The Scouts asked great questions and were very engaged with their responses. Thank you to the leaders of Pack 98 for your commitment to developing the character of these boys!

Last weekend, we welcomed two new Eagle Scouts in the 40th District as they received scouting's highest honor. Congratulations to William (Billy) Williams, Andrew Layne from the 40th District and Michael Carbonaro from the 18th District!
Follow Me on Facebook and Twitter!
To stay up-to-date on state issues and events affecting Monroe and Northampton counties, I invite you to follow me on my Facebook and Twitter pages.
If you have a public event benefiting our community in Monroe or Northampton Counties, please feel free to contact my office at (570) 620-4326 or by email mscavello@pasen.gov to include the event in my E-Newsletter at no charge. Requests should include details about the community event such as the time, location and the public purpose.