COVID-19 Coronavirus: What You Need to Know
The 2019 novel coronavirus (COVID-19) is a highly contagious disease that can create life-threatening health problems in some patients. This email update includes information and resources to help keep you and your family up to date on the latest news regarding this new virus.
To date, the Pennsylvania Department of Health has reported that dozens of Pennsylvanians in at least 14 counties have tested presumptive positive for the disease, and hundreds of others have undergone testing and are awaiting results.
The U.S. Centers for Disease Control and the Pennsylvania Department of Health have created webpages to keep the public informed about how to contain the spread of the disease. I encourage you to visit these sites for additional information:
CDC: https://www.cdc.gov/coronavirus/2019-ncov/index.html
PA Department of Health: https://www.health.pa.gov/topics/disease/Pages/Coronavirus.aspx
Governor Wolf and officials from the Department of Health are also providing daily updates to the public. The updates are available at https://governor.pa.gov/live.
Check back on my website at https://www.senatorscavello.com/ and follow me on social media at the links below for additional information as the situation continues to develop.
Facebook: https://www.facebook.com/SenatorScavello/
Twitter: https://twitter.com/senatorscavello
Governor Orders Closure of Bars, Restaurants, Other Venues for Two Weeks
To limit the number of in-person contacts that could spread the coronavirus, Governor Wolf has ordered the closure of bars and dine-in restaurants. He has strongly encouraged other non-essential places such as gyms and other entertainment venues to close for two weeks. Essential businesses like healthcare providers, grocery stores and gas stations will remain open.
Businesses that offer carry-out, delivery, and drive-through food and beverage service may continue to do so. The Department of Community and Economic Development (DCED) offered guidance on which businesses are essential or nonessential here. Our office is working to answers the many questions from our area employers. Specific information pertaining to whether the governor's order affects a particular business is coming from DCED.
More details about these measures to mitigate the spread of COVID-19 is available in the video below:
Information for employees who may be affected by the shutdown is available from the Department of Labor and Industry here.
Signs and Symptoms, Preventative Measures, and Testing
According to the Department of Health, symptoms of COVID-19 include:
Fever.
Coughing.
Shortness of breath.
The CDC recommends the following steps to help minimize the risk of infection:
Wash your hands frequently.
Avoid touching your face with unwashed hands.
Avoid close contact with people who are sick.
Stay home if you are sick.
Cover coughs and sneezes with a tissue or use the inside of your elbow.
Clean and disinfect frequently touched surfaces daily.
The Department of Health outlines these preventative measures in a video below: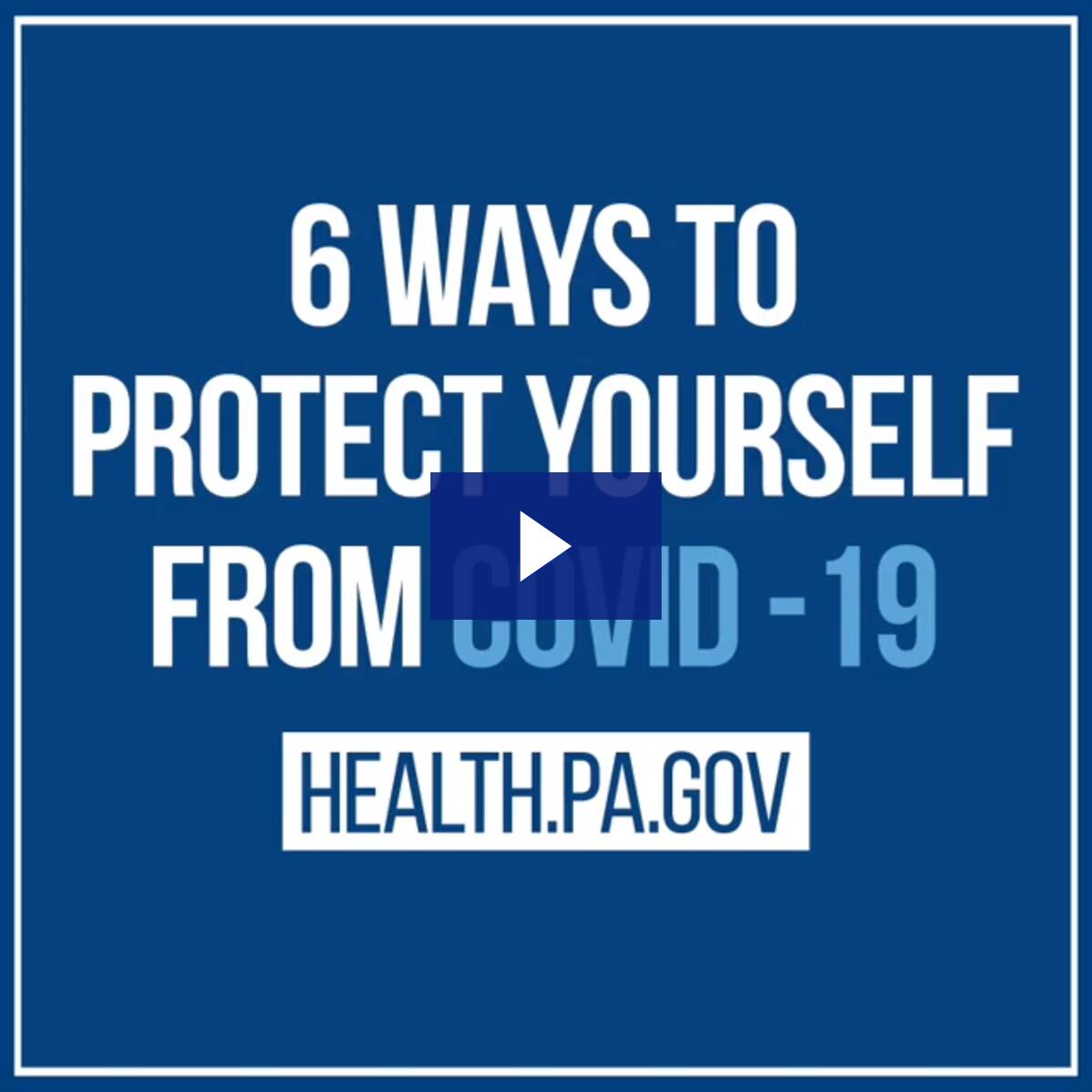 The Department of Health advises people who have mild symptoms to stay home to avoid contact with others. State residents who have severe symptoms, including a fever over 100 degrees or shortness of breath, are encouraged to call their healthcare provider. Individuals without a healthcare provider can contact their local health department or call 1‐877‐724‐3258.
More guidance for state residents and healthcare providers is available in the graphic below.
Unemployment Compensation Information
Workers in Pennsylvania who are impacted by COVID-19 may be eligible for Unemployment and Workers' Compensation benefits. Unemployment compensation claims should be submitted online for faster processing.
You may be eligible if:
Your employer temporarily closes or goes out of business because of COVID-19;
Your employer reduces your hours because of COVID-19;
You have been told not to work because your employer feels you might get or spread COVID-19; or
You have been told to quarantine or self-isolate, or live/work in a county under government-recommended mitigation efforts.
Applying online is the fastest and easiest way to get started. You can find call center hours and other vital info at www.uc.pa.gov; learn all UC benefit requirements by visiting the self-service guide; or use UC LiveChat.
Pennsylvania Schools Remain Closed Through March 27
Governor Wolf has ordered all K-12 schools to remain closed through at least Friday, March 27. The Administration will reevaluate when it is safe for schools to reopen. No school will be penalized for failing to meet the mandated 180 days of instructional time for the 2019-2020 school year.
A number of school districts are developing alternative education plans and continuing to offer lunches for students. Parents and guardians of students are encouraged to learn more about how their school district is responding to the school shutdown by visiting their school district's website or calling the school.
Pennsylvania Public Utilities Commission Stops Shut-offs
The Pennsylvania Public Utility Commission has stopped utility shut-offs including: electricity, gas, water, wastewater, telecommunications, and steam utility terminations. For more information please visit their website at: http://www.puc.state.pa.us/
PennDOT Closes All Driver, Photo License Centers, Extends Expiration Dates and Suspends Construction in Response to COVID-19
The Pennsylvania Department of Transportation (PennDOT) is implementing the following operational changes in response to Governor Tom Wolf's mitigation guidance regarding COVID-19.
All Driver License Centers and Photo License Centers in Pennsylvania will be closed for two weeks effective close of business on Monday, March 16. These closures are in addition to those previously announced in Montgomery, Delaware, Dauphin, Bucks and Chester counties.
Additionally, expiration dates for driver licenses, identification cards, vehicle registrations, and safety and emission inspections will be extended:
Driver licenses, photo ID cards and learner's permits scheduled to expire from March 16, 2020 through March 31, 2020, the expiration date is now extended until April 30, 2020.
Vehicle registrations, safety inspections and emissions inspections scheduled to expire from March 16 through March 31, 2020, the expiration date is now extended until April 30, 2020.
Persons with Disabilities Parking Placards scheduled to expire from March 16 through March 31, 2020, the expiration date is now extended until April 30, 2020.
All PennDOT District and County maintenance offices are closed. Additionally, construction projects have been suspended in all counties until further notice, however PennDOT crews are available to perform critical functions and emergency maintenance as needed.
All PennDOT rest areas and welcome centers statewide will be closed to the public effective 12:01 AM Tuesday, March 17, 2020.
As a reminder, customers may complete various transactions and access multiple resources via the Driver and Vehicle Services website, www.dmv.pa.gov. Driver and vehicle online services are available 24 hours a day, seven days a week and include driver's license, photo ID and vehicle registration renewals; driver-history services; changes of address; driver license and vehicle registration restoration letters; ability to pay driver license or vehicle insurance restoration fee; driver license and photo ID duplicates; and driver exam scheduling. There are no additional fees for using online services.
More COVID-19 information is available at www.health.pa.gov. For more information, visit www.dmv.pa.gov or www.PennDOT.gov.
Free Meals at School Districts
Check with your local school district to see if they are distributing FREE grab-and-go school lunches for those 18 years of age and younger every weekday, Monday through Friday.
My District Offices Remain Open
At this time my offices will remain open to help residents with any problem related to state government. We will take necessary precautions and high traffic surfaces are being cleaned regularly. However, we do ask that if you are not feeling well for any reason that you please refrain from visiting the office in person as a precaution. We are actively keeping a database of available resources available to assist constituents. We will do our best to help our constituents in any way we are able. If you have an immediate need, please feel free to reach out to us personally via phone or via my website and we will do our absolute best to help and assist you!