In This Update:
Virtual Town Hall Event THIS MONDAY
Remembering the Life and Work of Nancy Shukaitis
Northampton County COVID-19 Hospitality Industry Recovery Program is now AVAILABLE
COVID-19 Restrictions Relaxed on Businesses, Gatherings
Budget Hearings Continue with Discussion on Education
Senate Approves Bill to Open Career Opportunities for Individuals in Recovery
Senate Continues Bipartisan Review of Election Issues Next Week
Unemployment Compensation Programs Extended
World Down Syndrome Day is March 21
Around the 40th District
---
Virtual Town Hall Event THIS MONDAY
I will be holding a Virtual Town Hall Event on Monday, March 22nd at 6PM. Make sure you register to ensure that you receive a call that evening. You can also stream the audio at the same link. Those on the call will have the ability to ask questions live. The town hall will also be streamed live on my facebook page. I look forward to speaking with you and answering your questions on Monday evening!
Remembering the Life and Work of Nancy Shukaitis
Nancy Shukaitis, of Smithfield Township, passed away on March 4, 2021. It is only fitting that this community minded woman passed during Women's History Month. Nancy was a celebrated conservationist, author, and former county commissioner.
Born on March 3, 1925, she grew up along the Delaware River in the Shawnee River Valley. Her family's lineage there goes back to 1794. When the U.S. Army Corps of Engineers proposed the Tocks Island Dam project in the 1960s, she became actively involved in fighting the project. The proposed 160-foot-tall earthen dam would have created a 37-mile-long and mile wide reservoir. To complete the project some 600 families and property owners whose land would be affected, would have been displaced.
A group of local residents, led by Shukaitis, formed the Delaware Valley Conservation Association. She and the association attended hearings, collected signatures for petitions, and organized coalitions, gaining support for their platform. Through Nancy's leadership, what began as a few voices grew to a massive uproar by 1971 when the Delaware River Basin Commission voted to shelve the project.
Following the victory, which in part gave us the Delaware Water Gap National Recreation Area, Nancy continued her service as a Monroe County Commissioner, becoming the first woman to hold the office. She would serve in that role for 4 terms (16 years), for which she was Chairperson during the last eight years, retiring in 1983. Among her many accomplishments as a Commissioner are installing solar panels on the courthouse, initiating the county bus system, laying the groundwork for the county jail, and implementing flood protection along the Brodhead Creek.
In 2011, Nancy was interviewed by the Monroe County Historical Association and that interview is available here. It is well worth a listen to hear Nancy speak about her life in her own voice.
Nancy will always be remembered for her extensive and unwavering community involvement. Her mark on Monroe County and the surrounding region will not be forgotten and we are grateful for her engagement, foresight, and community impact.
Northampton County COVID-19 Hospitality Industry Recovery Program Now Available
Financial help is on the way for the hospitality industry, bars and restaurants in Northampton County. The County will receive $3.4 million in funding through Pennsylvania's COVID-19 Hospitality Industry Recovery Program (CHIRP). This funding was recently made available by the State Senate to help the hospitality industry. In Northampton County the grant program will be administered by The Rising Tide Community Loan Fund.
The program will make available grants, not loans, of up to $10,000 for eligible businesses within the hospitality industry. Applications will be accepted beginning March 15th and the program will remain open until the funding has been exhausted or June 15th, whichever comes first. The application will be available Monday, March 15th on The Rising Tide's homepage. Program guidelines and an FAQ document are now available.
The Monroe County CHIRP is still accepting applications. Program information is available through the Pocono Mountains Economic Development Corporation (PMEDC).
COVID-19 Restrictions Relaxed on Businesses, Gatherings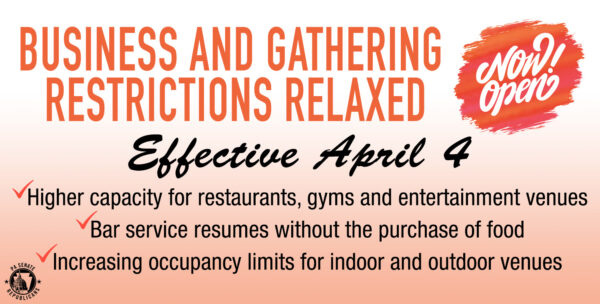 After weeks of dedicated advocacy from lawmakers, employers and employees, Governor Wolf finally announced that several restrictions on businesses and gatherings would be relaxed effective April 4. Some of the changes include:
Increasing indoor dining capacity to 75 percent for restaurants that self-certify compliance with cleaning and mitigation requirements;
Allowing bar service and alcohol service without the purchase of food;
Removing the curfew on serving alcoholic drinks; and
Increasing occupancy for gyms, entertainment facilities and personal services facilities.
In addition, occupancy limits will be increased to 25 percent for indoor venues and 50 percent for outdoor venues, regardless of size.
Although this is positive news for industries impacted by Governor Wolf's unilateral orders and restrictions, the fact that these restrictions are still in place today speaks to the dangers of allowing one branch of government to control all the power during an extended emergency declaration. Lawmakers approved potential amendments to the Pennsylvania Constitution that would give the people a stronger voice in emergency response through their elected officials. An explanation of the amendments – and how Governor Wolf is working to sabotage them – is available in this editorial.
Budget Hearings Continue with Discussion on Education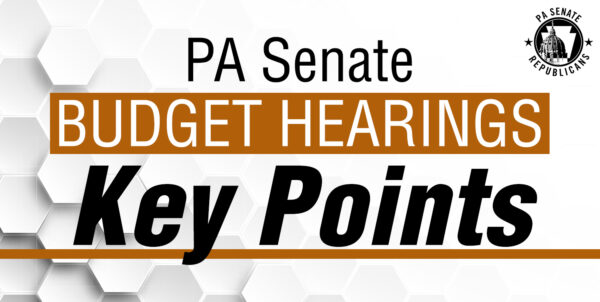 The Senate Appropriations Committee's series of hearings on Governor Wolf's budget proposal continued this week with a discussion regarding the future of education in Pennsylvania with the Department of Education and representatives from the Pennsylvania State System of Higher Education.
Some of the topics of discussion included the importance of returning students to in-person instruction safely, the need for schools to use federal stimulus funding prudently, and redesigning PASSHE to provide a quality education to students at an affordable price. Key Points
Budget hearings will continue Monday, March 21, with the Department of Corrections and Board of Probation and Parole at 10 a.m. and the Department of Community and Economic Development at 2 p.m. The hearings will be streamed live at www.PASenateGOP.com.
Senate Approves Bill to Open Career Opportunities for Individuals in Recovery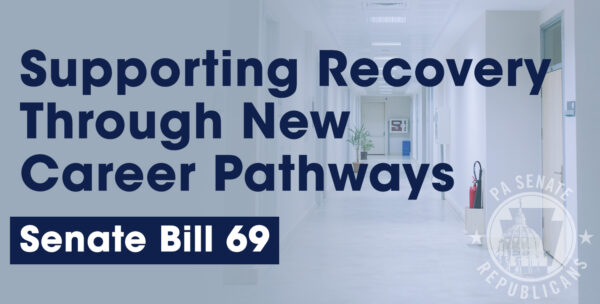 Individuals in recovery for substance use disorders could stand a better chance of breaking the cycle of addiction by maintaining meaningful employment under a bill approved by the Senate on Wednesday. The bill would create a Recovery to Work pilot program to connect individuals suffering from substance use disorders with high-priority occupations.
The pilot program would allow state agencies to work with local workforce development boards, treatment and recovery providers and employers to find job training and employment opportunities for individuals in recovery.
Senate Continues Bipartisan Review of Election Issues Next Week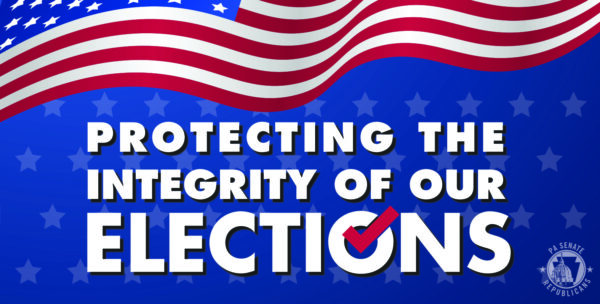 The Special Committee on Election Integrity and Reform will continue its comprehensive review of the 2020 General Election with a hearing on Tuesday at 10 a.m. The hearing will include testimony from the Pennsylvania Department of State, local election officials and county officials to gather state and local insight on the administration of the election.
The committee held its first meeting on Monday to review best practices of election integrity and security from other states. State residents are encouraged to submit their thoughts and comments through the online form.
Unemployment Compensation Programs Extended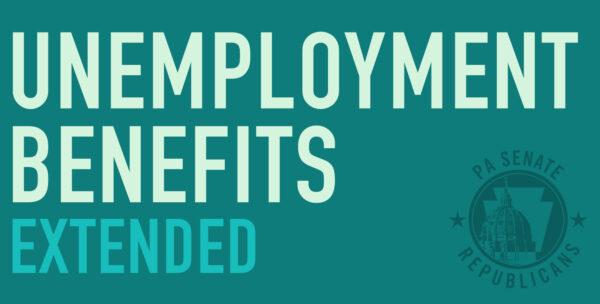 The federal government recently extended all Unemployment Compensation programs, including the additional $300 weekly Federal Pandemic Unemployment Compensation payments, through September 6. The maximum number of weeks of eligibility for the Pandemic Emergency Unemployment Compensation program was also extended from 24 weeks to 53 weeks, and the maximum number of weeks of eligibility for Pandemic Unemployment Assistance is extended from 50 weeks to 79 weeks.
In addition, up to $10,200 of unemployment benefits for an individual (or $20,400 for a couple, if both members received unemployment benefits) will not be considered federal taxable income in 2020, assuming the individual or couple earned less than $150,000 in adjusted gross income for the year.
World Down Syndrome Day is March 21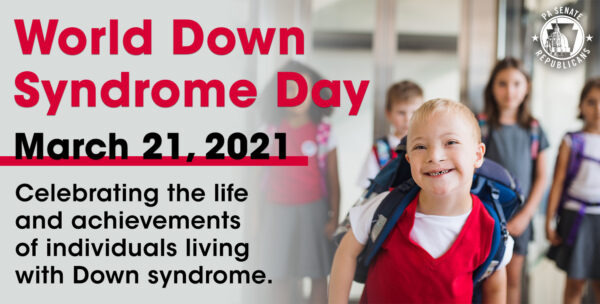 March 21 is designated as World Down Syndrome Day by numerous states and countries in recognition of the incredible achievements of the individuals living with this condition. Each person with Down syndrome has different talents, abilities and needs – and that makes every person living with this condition special and unique.
More information on World Down Syndrome Day is available here.
Around the 40th District
We honored my longtime friend, Robert (Bob) Werts who retired from the NEPA Regional Counter-Terrorism Task Force on December 31, 2020 after 50 years of service to our Commonwealth and Country.
After serving in the U.S. Navy, Bob enlisted with the Pennsylvania State Police on August 15, 1968. He became Corporal in 1976, Sergeant in 1983, Lieutenant in 1985, Captain in 1987, Major in 1997, and Lieutenant Colonel in January of 2002. He retired in 2003.
In August of 2004 he was hired as NEPA Regional Counter-Terrorism Task Force. After sixteen years, he has retired as of December 31, 2020. Knowing Bob, I suspect we will continue to see him active in our community. for years to come. Service is in his DNA.