In this Update:
Funding Available for Broadband Deployment Projects
State Restrictions on Senior Community Centers Relaxed
New Law Updates CDL Licensing Requirements
Fundraising Option for First Responders, Veterans Groups and Nonprofits Approved by Senate
Senate Sends "Motorcycle Lemon Law" to House of Representatives
Around the 40th District
---
Funding Available for Broadband Deployment Projects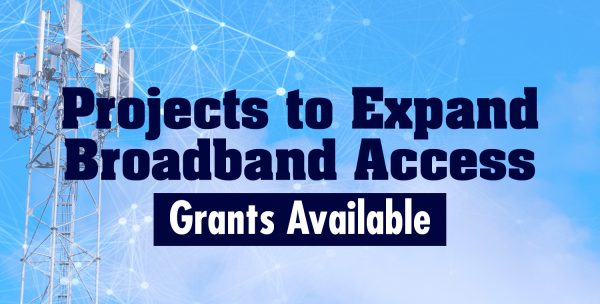 Projects that facilitate the deployment of high-speed broadband service infrastructure in unserved and underserved areas of Pennsylvania could be eligible for funding through the Unserved High-Speed Broadband Funding Program.
The program is open to nongovernmental entities with the technical, managerial and financial expertise to design, build and operate a high-speed broadband service infrastructure. Funding supports projects that can offer access to services that will enhance economic development, education, health care and emergency services.
Applications will be accepted until Sept. 24. Grants will be awarded by the Commonwealth Financing Authority.
State Restrictions on Senior Community Centers Relaxed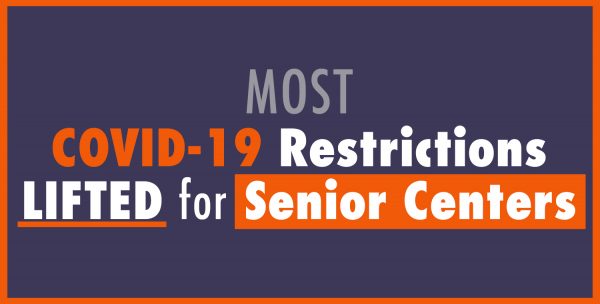 State Department of Health COVID-19 restrictions for Pennsylvania Senior Community Centers have been lifted, except for mask requirements for unvaccinated individuals for indoor activities and certain outdoor activities.
The state guidance does not prevent centers, municipalities, local authorities or counties from implementing stricter mitigation efforts based on local circumstances.
Senior Community Centers provide meals and offer social activities, informative programs, creative arts, exercise, volunteer opportunities, community services and more. You can find a center near you here.
New Law Updates CDL Licensing Requirements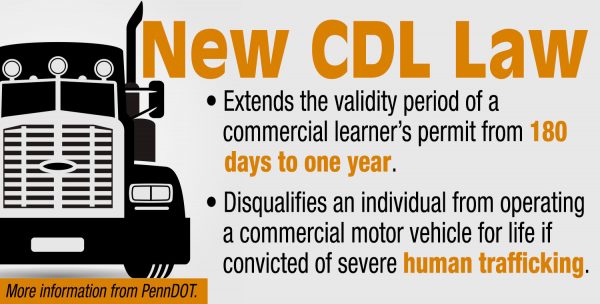 Legislation approved by the General Assembly in November has taken effect extending the validity period of a commercial learner's permit from 180 days to one year, giving vehicle operators more time to prepare for their skills test.
Making the permits valid longer also means fewer operators will need to extend their permit, which will help decrease customer traffic in driver license centers.
Act 131 of 2020 also updates requirements and restrictions for commercial driver's license (CDL) holders, including reporting requirements for convictions and violations. One change disqualifies an individual from operating a commercial motor vehicle for life if they are convicted of using a commercial motor vehicle to commit certain forms of human trafficking.
Fundraising Option for First Responders, Veterans Groups and Nonprofits Approved by Senate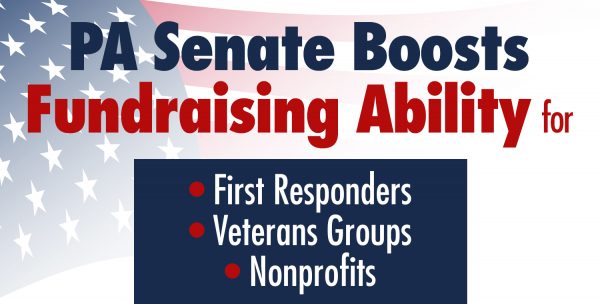 Recognizing that the ongoing response to the COVID-19 pandemic continues to place a severe financial crisis on numerous volunteer and veterans organizations, the Senate recently approved legislation that will provide a crucial financial lifeline for those vital community organizations.
The measure would allow volunteer fire departments, veterans organizations and other nonprofits to conduct online small games of chance fundraisers and accept payment via mobile payment applications. The bill was sent to the House of Representatives for consideration.
Licensees would be required to verify age and residency of those participating, and the ability to fundraise online would end May 1, 2022 or upon the termination of the COVID-19 emergency declaration, whichever is later.
Senate Sends "Motorcycle Lemon Law" to House of Representatives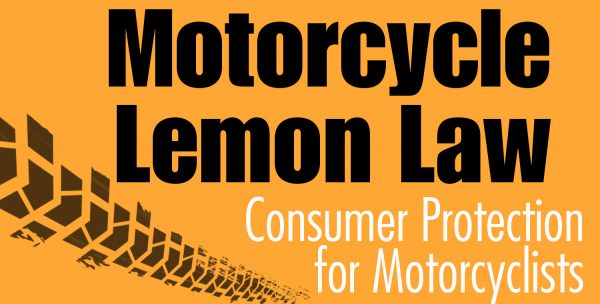 The Senate recently approved legislation to establish a "motorcycle lemon law" similar to the consumer protections for car buyers provided by the Pennsylvania Automobile Lemon Law.
It requires manufacturers to repair significant defects occurring in the first year of ownership or 12,000 miles. Currently, motorcycle owners are left to pay out of pocket to repair potentially dangerous manufacturing defects or fix the problem themselves. The bill was sent to the House of Representatives for consideration.
Around the 40th District
Over the long weekend my office attended many Memorial Day events and ceremonies throughout the 40th District. During these services we honored the self-sacrifice and paid tribute to all those who have given what Abraham Lincoln called "the last full measure of devotion" so that freedom and liberty continue to reign in America. God Bless all those who have fallen defending our great nation and let me encourage us all to keep them in our hearts and prayers not just on Memorial Day but throughout the year.
I recently had the honor of participating in East Stroudsburg Borough's 150th Anniversary where I presented the Borough with a Senate Citation. Pictured above with me are Marcus Ruiz won first place in essay contest and Asha Garcia won 2nd Place. I read both essays and they were terrific. It is always great to see our future leaders take part in their community! Great job Marcus and Asha!
Recently I joined the Nazareth Area Chamber of Commerce to cut the ribbon on another new business in Nazareth Borough. Carera Organix is an all-natural, vegan, and organic skin care, hair care and home product manufacturer. We have seen an explosion of women owned businesses in the Borough this spring and it is tremendous to see. Congratulations to Amie and her team!
Allow me to introduce the two newest Eagle Scouts in the 40th District. Lucas Jorstad and Myles McHugh of Troop 100 held their ceremony together last evening at the Middle Smithfield Community Center. Both scouts completed their final projects at Middle Smithfield's Echo Lake Park. Lucas constructed dip bars and Myles constructed a balance beam and bench along the fitness trail at the park. These two activity stops (of what will eventually be twelve built by area Scouts) will represent the 12 virtues of the Scout Law. I wish you both all the best and sincere congratulations to Lucas and Myles!
Last week, I met with and presented certificates to members of Girls on the Run Pocono. These tremendous young ladies and their coaches do amazing work in our community through their organization. Recently they coordinated a community project to make toiletry bags for VALOR Clinic Foundation to give out to homeless veterans who they serve. They also raised money through their events and donated it to VALOR to continue their mission Great job!