In this Update:
Transparency: Senate Expenses to be Posted Online Beginning Sept. 1
September 11th Essay Contest for High School Seniors
Hearing Examines COVID-19 Policies for the 2021-22 School Year
Exploring the Potential of Augmented Reality Technology in PA Farming
Federal Unemployment Benefit Programs End Sept. 4
Legislative Review: Supporting Emergency Responders
Around the 40th District
---
Transparency: Senate Expenses to be Posted Online Beginning Sept. 1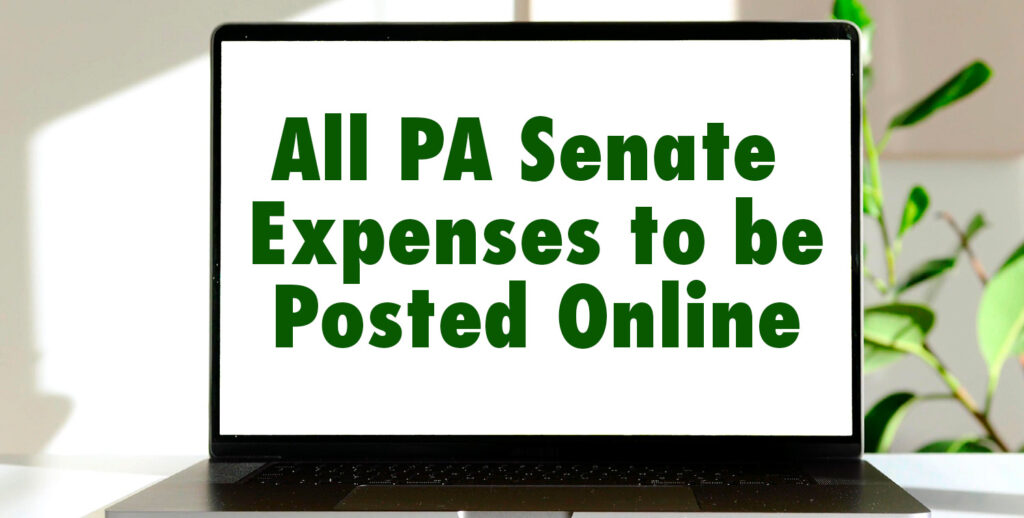 The Pennsylvania Senate has developed a new reporting system to make all Senate expenses available to the public online beginning on Sept. 1.
The information will include all office leases, per diems, reimbursements for meals and lodging, supplies, mileage, office maintenance and much more. The information will be available on a new webpage, which will be updated monthly by the Chief Clerk and will apply to all Senate offices — Republican, Democrat, Independent and institutional.
The Senate's new expense transparency system will build on existing good government measures in state government, including:
September 11th Essay Contest for High School Seniors
This week I announced a September 11th Essay Contest with scholarship money being awarded to the top three participants. I will also invite the top three participants to the Capitol in Harrisburg for lunch with me and a personal tour of the building. The contest is open to any high school senior enrolled in 12th grade in either a public, private, or home school program within Pennsylvania. The deadline for entries is Friday, September 3, 2021.
For more information, including the contest details, awards, and judging criteria, please visit – https://www.senatorscavello.com/essaycontest/
Hearing Examines COVID-19 Policies for the 2021-22 School Year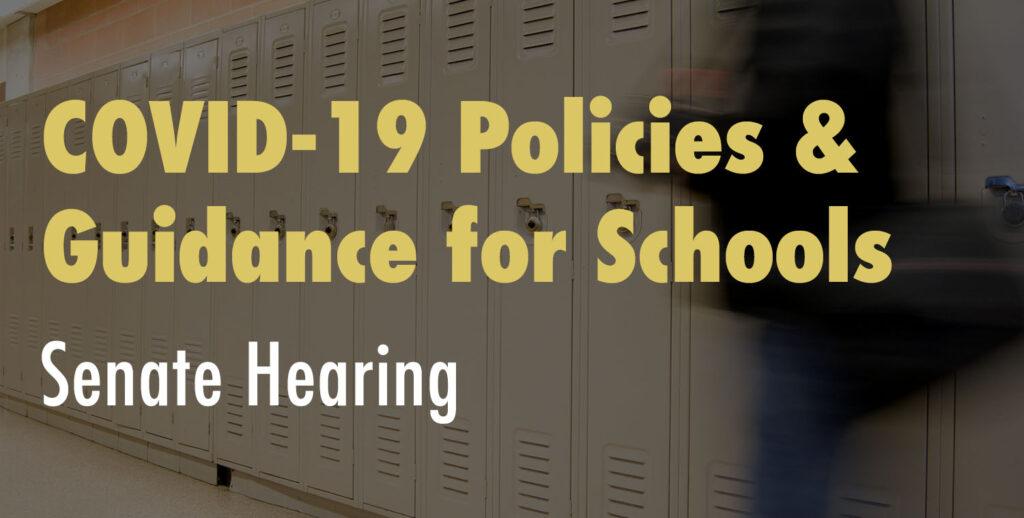 With the start of the new school year approaching, the Senate Education Committee held a public hearing on COVID-19 policies and guidance for Pennsylvania schools.
The committee questioned Acting Health Secretary Alison Beam, Education Secretary Noe Ortega and Acting Deputy Secretary for the Office of Elementary and Secondary Education Sherri Smith. Committee members questioned the constitutional authority for school districts to impose pandemic-related mandates on students without an emergency declaration.
You can view the hearing and read testimony here.
Exploring the Potential of Augmented Reality Technology in PA Farming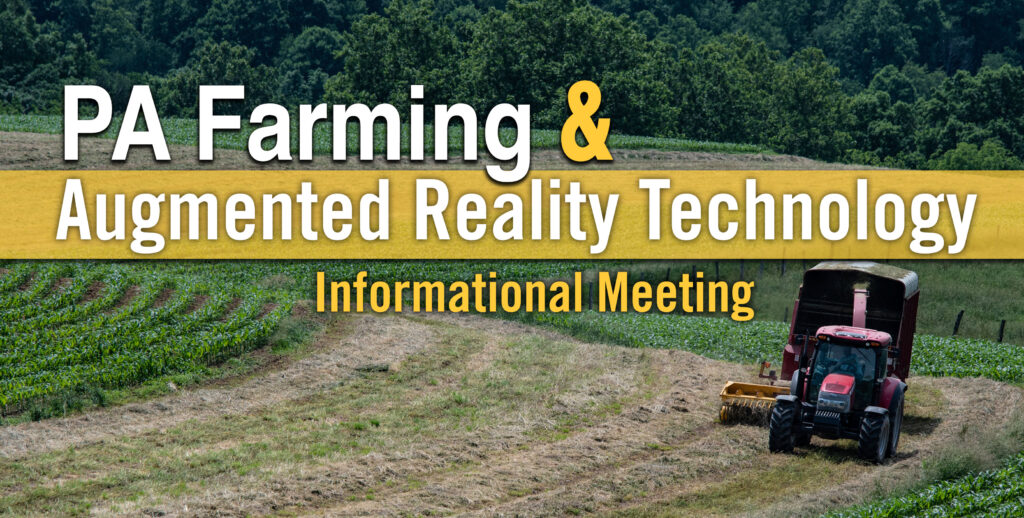 Augmented reality is a technology that superimposes a computer-generated image on a user's view of the real world, providing a composite view. It's increasingly used in manufacturing and the military and its potential to aid farmers is great.
The Senate Agriculture and Rural Affairs Committee and the House Agriculture and Rural Affairs Committee held an informational meeting this week to explore how augmented reality technology can be applied to Pennsylvania farming.
The panel learned that the technology can be used for monitoring fields, repairing equipment, training new farmers, and more. You can view the presentation here.
Federal Unemployment Benefit Programs End Sept. 4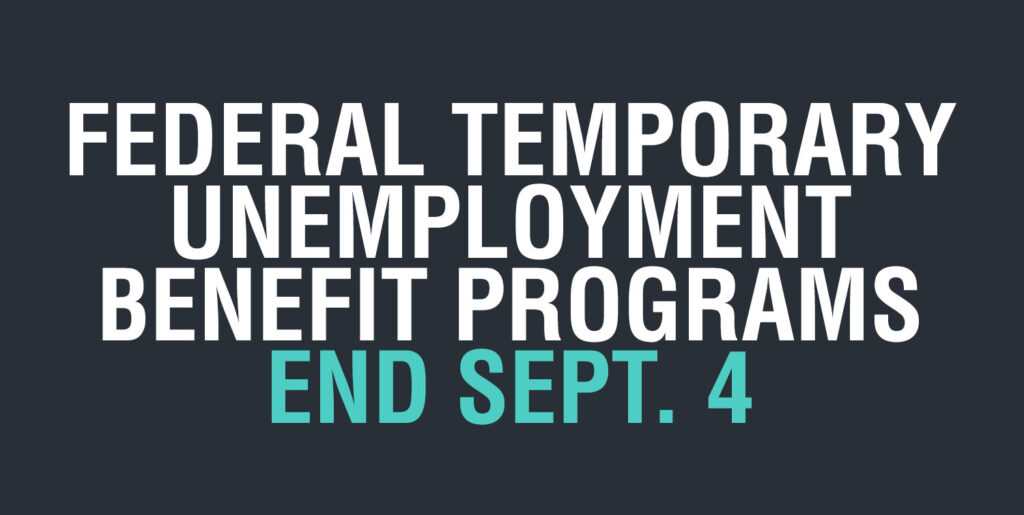 Reminder for affected Pennsylvanians: Federal unemployment benefit programs, including Pandemic Emergency Unemployment Compensation (PEUC), Pandemic Unemployment Assistance (PUA), and Federal Pandemic Unemployment Compensation (FPUC), will end Sept. 4.
The state's regular unemployment compensation program and those receiving benefits from it are unaffected.
Individuals currently enrolled in PEUC and PUA can take advantage of free jobseeker services offered through PA CareerLink. These services include access to a free job database, resume assistance, information about reskilling opportunities and more. To schedule an appointment, contact your local PA CareerLink office listed here.
Legislative Review: Supporting Emergency Responders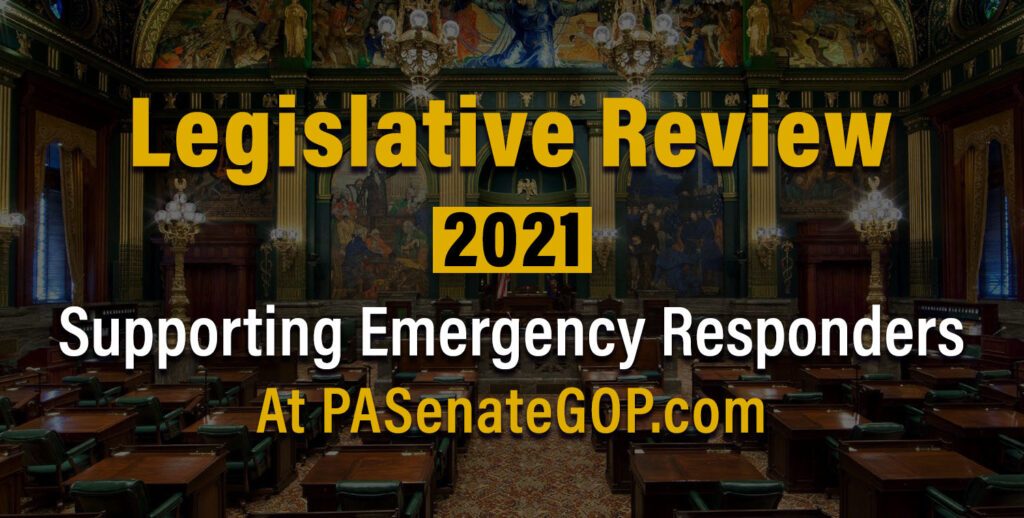 The police, fire and rescue, and EMS organizations that lead local emergency response are critical components for ensuring public safety. The Senate passed several bills in 2021 to support the men and women who support our communities.
Senate Resolution 96 directs the Legislative Budget & Finance Committee to conduct a performance audit on Pennsylvania's critical 9-1-1 System and make recommendations in advance of the reauthorization of the 9-1-1 Law.
Senate Bill 36 provides for license fee exemptions for service dogs used by a fire department, sheriff's office or in the performance of rescue services or medical emergency services.
Senate Bill 83 creates grants to establish fire training programs for students in high school.
Senate Bill 158 provides for medals of commendation for law enforcement, fire and EMS personnel.
Senate Bill 243 allows volunteer fire departments, veterans organizations and other non-profits to conduct small games of chance fundraisers online until May 1, 2022 to make up for fundraising revenue lost during the pandemic.
You can find a full list of bills of note passed by the Senate in 2021 here.
Around the 40th District
Congratulations to Connor Matthew Haydt upon earning the rank of Eagle, the highest advancement rank in scouting. Conner is a member of Troop 102 in Saylorsburg. For his Eagle Scout community service project, Connor made a variety of improvements to the West End Food Pantry in Eldred Township. Great job Connor!!
Saturday morning, along with the Pocono Heritage Land Trust, I participated in the Rail Gap Nature Preserve ribbon cutting. This is a public 62-acre nature preserve on Shafers School House Road in Stroud and Hamilton Townships that was purchased last year with funding from DCNR and Stroud Township.
Yesterday evening, I attended an separate Eagle Scout event as we celebrated 2 new Eagle Scouts in the 40th District! PA State Rep. Ann Flood and I visited Monocacy Farm Project in Hanover Township, Northampton County to present citations to Graham Phillips and Robert James. Both Graham and Robert completed their Eagle projects for the Monocacy Farm Project. Robert designed and constructed a wooden deck while Robert built chalk sign boards and a hand washing station. Congratulations to both Graham and Robert!
This morning I attended the dedication of the new Monroe County Hospice House Healing Garden! The unique space will provide comfort for residents, their families, and staff. Such an absolutely beautiful space!
The Blue Valley Farm Show is back and going on now through Saturday, August 14th. I attended the fair on opening night, Tuesday, and presented a senate citation in honor of their 75th year! I encourage you to attend this year, there is something for everyone including Bingo, tons of exhibitors and the return of Truck & Tractor Pulls this year! The Farm Show is located at 707 American Bangor Road, Bangor PA 18013.