In This Update:
Scavello Introduces School Property Tax Relief Legislation for Seniors
Application Period Opens for Second Round of COVID-19 Small Business Grants
FAQ Available on School Closures and Unemployment Compensation

Congratulations

to Lucas Soares
2020 Census Door-to-Door Visits Underway
Fall School Sports Seasons Delayed Two Weeks
Returning Fraudulent, Erroneous Unemployment Compensation Benefits to PA Treasury
Additional Guidance Available for Reopening Schools
---
Scavello Introduces School Property Tax Relief Legislation for Seniors
Last week, I introduced legislation that would provide much needed school property tax relief for senior citizens across the Commonwealth. School property taxes continue to rise at an alarming rate and senior citizens are among our most vulnerable populations, given that they are on fixed incomes. As has been said before, no tax should have the power to leave you homeless and no citizen should be forced to choose between paying for food, medicine or their school property tax bill.
Senate Bill 1262 and Senate Bill 1263 would provide for a school property tax rebate of up to $5,000 for all seniors age 65 and older who have an annual household income of less than $60,000. (Fifty percent of Social Security benefits are excluded when determining income.) The legislation would eliminate school property taxes for the majority of senior across the commonwealth.
I have introduced many school tax legislative measures in my career in both the House and Senate. Most recently, I introduced Senate Bill 805 to provide the revenue necessary to eliminate school property taxes on owner-occupied homes via the homestead exclusion. This legislation followed the Constitutional Amendment question passed by voters in 2017 expanding the homestead exclusion to 100 percent of a home's assessed value. I also remain a co-sponsor of and have previously voted for, legislation that would eliminate school property taxes entirely (SB76).
This is not the final solution to the school property tax problem that has inflicted years of escalating home foreclosures and rising tax bills on Pennsylvania citizens, but it is progress that is within reach to help the most vulnerable.
Application Period Opens for Second Round of COVID-19 Small Business Grants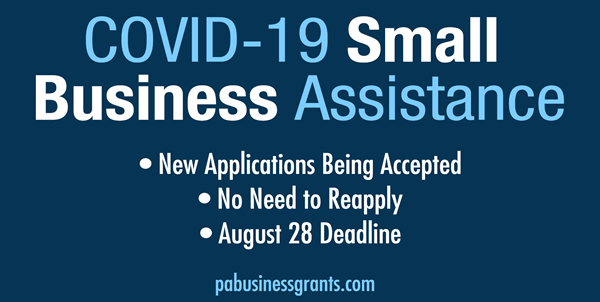 Small businesses that have been financially impacted by the COVID-19 pandemic may qualify for funding through the COVID-19 Relief PA Statewide Small Business Assistance program. The application period for the second round of funding is open now through August 28.
The program provides grants ranging from $5,000 to $50,000 and is open to businesses that generate at least 51 percent of their revenues in Pennsylvania. Businesses must also have had 25 or fewer full-time employees prior to February 15 and have annual revenue of $1 million or less prior to the pandemic. Grants must be used for losses or expenses related to COVID-19, such as payroll, rent/mortgage, utilities or expenses related to new measures to protect the health of employees and customers.
Businesses that applied during the first round of funding do not need to apply again.
FAQ Available on School Closures and Unemployment Compensation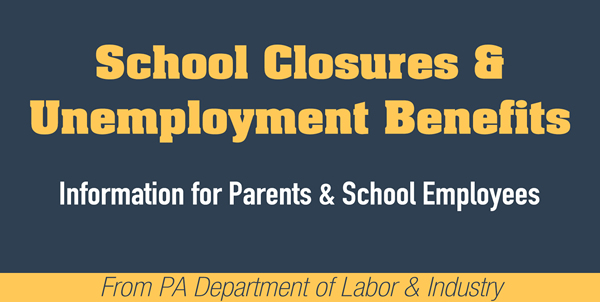 Plans by some school districts to adopt hybrid in-school/online learning schedules have prompted questions about Unemployment Compensation eligibility for parents who need to stay home with their children.
Although eligibility varies based on the facts of each individual claim, the Department of Labor has created a Frequently Asked Questions (FAQ) page to provide broad information on this issue for parents and school employees.
Congratulations

to Lucas Soares
This week I had the honor of presenting Lucas Soares of Hanover Township with a Senate Citation in honor of him reaching the rank of Eagle Scout. Only attained by a small percentage of all Boy Scouts, this monumental achievement represents the great sacrifice and tremendous efforts that have been made by Lucas. For his Eagle Scout community service project, Lucas refurbished an area of Mary's Shelter in Bethlehem. This involved building indoor mail slots and a brochure rack, installing a clothing rod and painting the shelter ceiling. Congratulations Lucas and the Soares family!
2020 Census Door-to-Door Visits Underway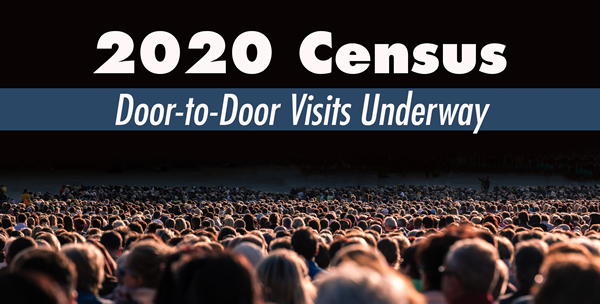 The U.S. Census Bureau began making follow-up visits this week to households that did not respond to the 2020 Census questionnaire by mail, phone or online. The door-to-door visits will help ensure a complete and accurate count, which is critical since the results will determine how billions of dollars are allocated to communities.
Census takers must have a valid government ID badge with their photo, a U.S. Department of Commerce watermark and an expiration date on the badge. They are also required to wear a mask and practice social distancing. The public may contact their regional census center to speak with a Census Bureau representative to confirm a census taker's identity.
Households can still respond online at www.2020census.gov, by phone at 844-330-2020, or by completing and mailing back the paper questionnaire they received earlier this year.
Fall School Sports Seasons Delayed Two Weeks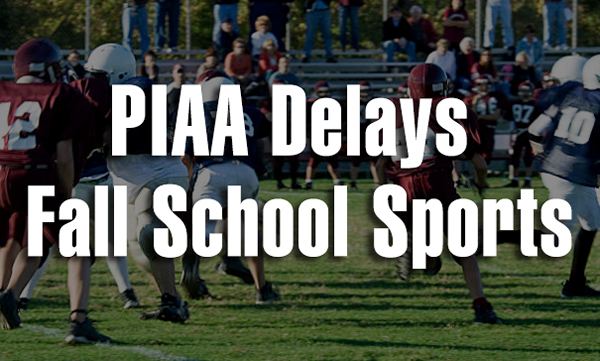 On August 7, the Pennsylvania Interscholastic Athletic Association (PIAA) announced that fall school sports seasons would be delayed two weeks in order to gather more input from Governor Wolf and the General Assembly on how to move forward in a way that is safe for everyone involved. The PIAA had previously developed guidelines for seasons to continue safely before Governor Wolf's surprise announcement last week that his Administration is recommending the suspension of all school sports until 2021.
The PIAA recently sent a letter to Governor Wolf outlining the need for students to return to sports this fall with proper health and safety provisions in place. I have heard from many local parents, coaches and students on this issue, and I will continue to advocate for school sports to resume safely this fall.
Returning Fraudulent, Erroneous Unemployment Compensation Benefits to PA Treasury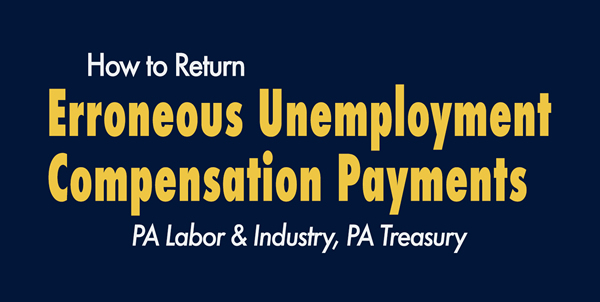 A few months ago, the Pennsylvania Treasury uncovered thousands of cases of fraud pertaining to the state's Unemployment Compensation program. If you receive a fraudulent or erroneous payment, it is critical to return the debit card or paper check to the Treasury so they can investigate the case.
If you receive a U.S. Bank ReliaCard in error, it is important to email a picture of the back of the card to officeofinvestigations@patreasury.gov or return the card to the address below.
Pennsylvania Treasury Department
Department of Treasury Comptroller's Office
Attn: Mark Accorsi
Room 113, Finance Building
Harrisburg, PA 17120
Paper checks issued in error should be returned to the same address after writing "VOID" across the front of the check. A photo of the front and back of the check should also be sent to the same email address above for investigation.
If the payment was made electronically through direct deposit, recipients should contact their financial institution to request a "Refuse Credit of Deposit" and provide the financial institution with the issue date of the payment. If they are unable to request a refuse credit of deposit, they should write a check or money order to the PA UC Fund at the address below with a brief statement as to why they are sending the check or money order as well as their name, address, last four digits of their Social Security Number, phone number and email address.
Pennsylvania Department of Labor & Industry
651 Boas Street, Room 500
Harrisburg, PA 17121
Additional Guidance Available for Reopening Schools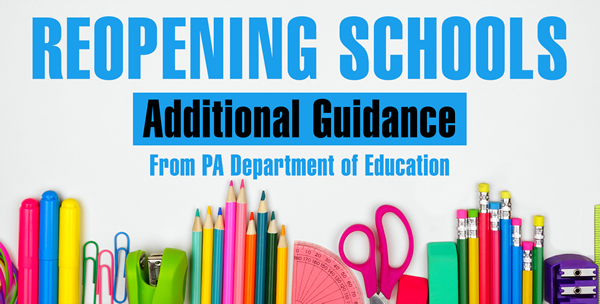 Following a Senate workshop discussion last month that highlighted the need for additional guidance on safely re-opening school buildings, the Department of Education recently announced new recommendations for instructional models for the 2020-21 school year.
Decisions on the operation of schools during the pandemic remain in the hands of local school boards.