In this Update:
Legislative Review: Combatting Human Trafficking
September 11th Essay Contest for High School Seniors
Preserving Services for Seniors & Adults with Disabilities
Reducing the Impact of Invasive Species
Hearings Begin on Department of State Controversies
School Buses are Back on the Roads
162 Years Ago This Week Pennsylvania Strikes Oil
Around the 40th District
---
Legislative Review: Combatting Human Trafficking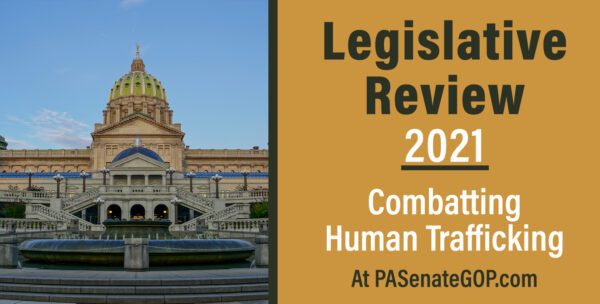 The General Assembly enacted several measures in recent years to combat human trafficking. That effort has continued in 2021 with the passage of measures to prevent this hideous practice and help victims.
Act 32 of 2021 prohibits defendants from introducing evidence of a human trafficking victim's past sexual victimization in any human trafficking prosecution.
Act 38 of 2021 requires that a court consider whether a party or member of that party's household has been convicted of human trafficking prior to awarding child custody.
Act 45 of 2021 requires any offender that subjected a minor to sexual servitude (human trafficking) to undergo treatment while in prison, helping to reduce recidivism.
Act 52 of 2021 permits expert witnesses in cases of domestic violence and human trafficking.
You can find a full list of bills of note passed by the Senate in 2021 here.
September 11th Essay Contest for High School Seniors
I am holding, a September 11th Essay Contest with scholarship money being awarded to the top three participants. I will also invite the top three participants to the Capitol in Harrisburg for lunch with me and a personal tour of the building. The contest is open to any high school senior enrolled in 12th grade in either a public, private, or home school program within Pennsylvania.
The deadline for entries is Friday, September 3, 2021. One more week to get your entries submitted!
For more information, including the contest details, awards, and judging criteria, please visit – https://www.senatorscavello.com/essaycontest/
Preserving Services for Seniors & Adults with Disabilities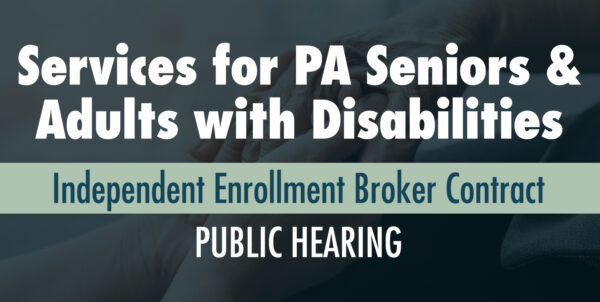 The Senate Aging & Youth Committee and the Senate Health & Human Services Committee held a joint public hearing with the House Human Services Committee and House Aging & Older Adult Services Committee this week on an issue affecting Pennsylvania seniors and adults with disabilities.
The hearing focused on the intent of the Department of Human Services (DHS) to contract with the firm Maximus US Services as its independent enrollment broker as part of the commonwealth's Medicaid enrollment process. Members discussed the impact it will have on seniors and adults with disabilities. DHS was unable to testify due to ongoing litigation.
The panels heard about the problems caused by shifting the process from local contacts to an out-of-state vendor. You can view hearing video and testimony here.
Reducing the Impact of Invasive Species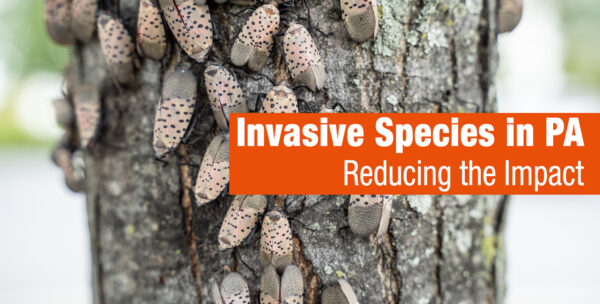 Reducing the impact of invasive species on Pennsylvania's economy, agriculture and natural resources was the topic of a hearing by the Center for Rural Pennsylvania this week.
The Center for Rural Pennsylvania is a bipartisan legislative agency made up of Senate and House members, and others, that serves as a resource for rural policy within the Pennsylvania General Assembly.
In 2019, the negative economic impact of the spotted lanternfly was estimated to be $13.1 million. Other invasive species include the gypsy moth, emerald ash borer, hydrilla and reed canarygrass.
The panel heard from the Pennsylvania Department of Agriculture, Pennsylvania Department of Conservation and Natural Resources, Pennsylvania Fish and Boat Commission, Penn State Fruit Research and Extension Center and other experts. You can watch the hearing here.
Hearings Begin on Department of State Controversies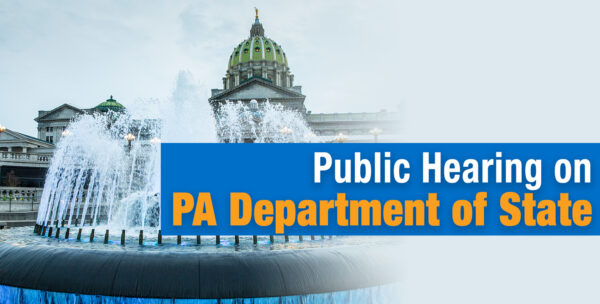 The Senate State Government Committee held the first in a series of hearings reviewing controversial actions recently undertaken by the Department of State.
The first hearing discussed post-election audits undertaken by the Department of State after the 2020 election with Acting Secretary of State Veronica Degraffenreid. The panel heard from the acting secretary, Deputy Secretary of Elections and Commissions Jonathan Marks and members of the department's Risk Limiting Audit Work Group.
The State Government Committee will hold five additional hearings prior to the confirmation hearings for Acting Secretary Degraffenreid, covering the following:
The failure to advertise a constitutional amendment protecting victims of childhood sexual abuse,
the department's last minute, confusing guidance to counties before the 2020 election,
the 2021 Primary ballot questions that were widely criticized as biased,
the difficulties experienced by counties during the 2021 Primary,
and the lackluster performance of the Pennsylvania Licensing System for doctors and other professionals.
School Buses are Back on the Roads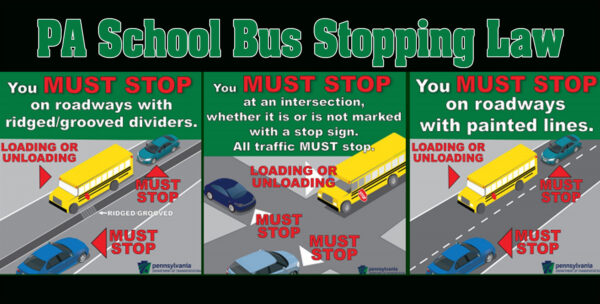 Children are returning to school, which means school buses are back on the roads.
Motorists must stop at least 10 feet away from school buses that have their red lights flashing and stop arm extended. PennDOT has a breakdown of the state School Bus Stopping Law, as well as tips for parents and students for getting to and from school safely.
162 Years Ago This Week Pennsylvania Strikes Oil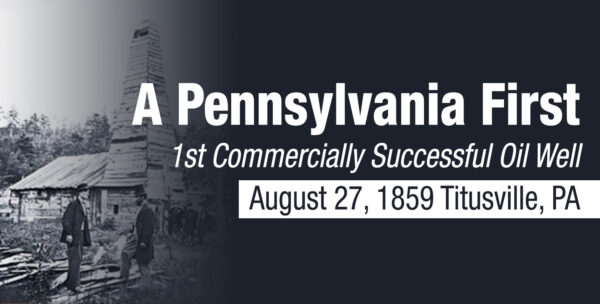 On August 27, 1859, the world's first commercially successful oil well produced black gold near Titusville, Pennsylvania.
Edwin Drake, a former railroad conductor, encountered so many problems before he succeeded that his well was nicknamed "Drake's Folly." His financial backers had quit on him and he took out a loan to keep the project going to completion.
The legacy of the Drake Well was creating unprecedented interest and investment in oil drilling, refining and marketing. Pennsylvania would go on to be a key producer of coal and natural gas, and today includes wind and solar power in its energy portfolio.
Around the 40th District
Friday morning, I presented a Senate citation today to Elizabeth Tresslar, who is celebrated her 100th birthday! She was born in Montour County on Aug. 21, 1921. She is the proud mother of three children and has been blessed with four grandchildren and two great grandchildren. PA State Rep. Ann Flood joined me and presented a House citation as well. Happy Birthday Elizabeth!
Continuing the trend of the past several weeks, over the weekend we welcomed four new Eagle Scouts in the 40th District.
Welcome Troop 33 in Bath, newest Eagle Scouts: Michael Jenkins Jr. and Noah Reichelderfer!
Congratulations to the newest Eagle Scout of Troop 86 in Stroudsburg, Troy Carmello Miller.
Welcome Troop 83's newest Eagle Scout, Jacob Pino. Jacob plans to attend East Stroudsburg University for his bachelors degree and then move on to law school to study corporate law.
Congratulations gentlemen, best of luck in all your future endeavors!
Last week, we attended the Slate Belt Chamber annual clambake at the Weona Park Pavilion in Pen Argyl. We enjoyed great food and had an opportunity to talk with leaders from the business community. Pictured with my District Director Brian Fenstermaker are Pen Argyl Mayor Stephen Male, PA State Rep. Ann Flood, Slate Belt Chamber of Commerce Executive Director Laura McLain, Pen Argyl Borough Manager Robin Zmoda.
Wednesday, we joined the Supervisors of Smithfield and Middle Smithfield Townships as well as other community leaders and members to celebrate the grand opening of the brand new Library of the Smithfields. The new facility is located inside the also new Middle Smithfield Township Community & Cultural Center. The library is a branch of the Eastern Monroe Public Library. If you have not visited the cultural center I encourage you to stop by and also check out the new library! Great to have this community asset to serve the people in the Smithfield area! Congratulations!
More terrific progress at Minsi Lake over the last week. Thank you to Friends of Minsi Lake Chairman John Mauser and the rest of the FOML group for their continued dedication to improving the lake! John did some weed pulling at the west shore location at Minsi Lake with other volunteers. He purchased a special tool for the job, its kind of like a rake with blades that you cut the weeds and pull them out with one motion. The group worked on the boat launch area only as it was difficult for larger boats to launch from there so the weeds were cleared out.