In this Update:
Auditor General Releases Audit Critical of Wolf Administration's Business Closure Waiver Process
Hearing Explores Positive Experiences of Local Governments During COVID-19
PA National Guard Associations 2021 Annual Conference
Senate Panel Votes to Issue Subpoenas for Election-Related Documents from Department of State
Committee Discusses Ways to Preserve Life-Saving Care Provided by Firefighters
Proposed New Nursing Home Regulations Examined by Senate Committees
Scammers Continue to Exploit COVID-19
September is National Literacy Month
Around the 40th District
---
Auditor General Releases Audit Critical of Wolf Administration's Business Closure Waiver Process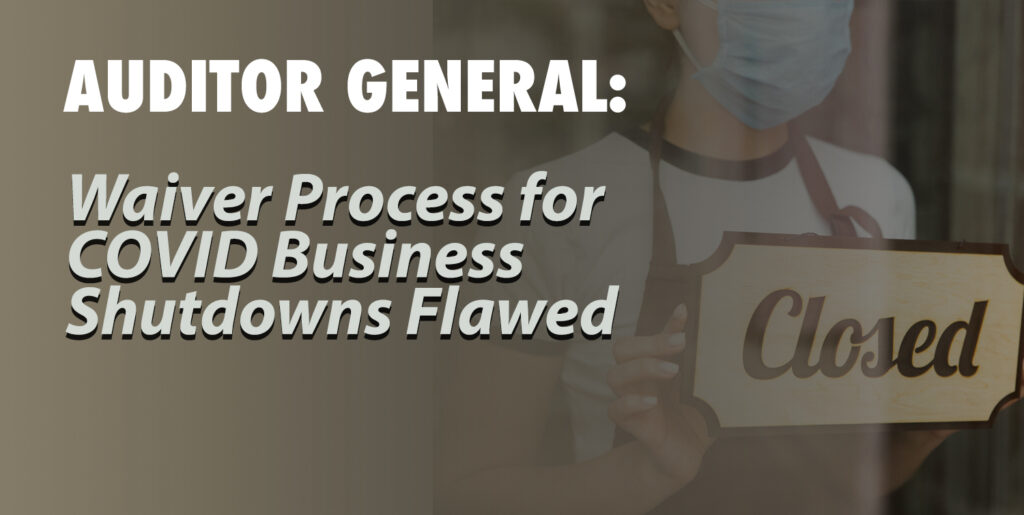 When Pennsylvanians voted in May to put limits on Gov. Wolf's emergency powers, part of their concern was over his pandemic business closures and his administration's handling of closure waivers. An audit by state Auditor General Tim DeFoor found voters' concerns to be justified.
The auditor general released a performance audit examining how the Department of Community and Economic Development handled the process to grant waivers to businesses seeking to stay open during the shutdown, stating:
"This audit revealed a flawed process that provided inconsistent answers to business owners and caused confusion. While the pandemic certainly presented some unique challenges, the process was hastily assembled on the fly, unevenly administered and should be reformed before anything like it is ever used again."
A preliminary audit by the previous auditor general uncovered similar problems. The new audit also found that Gov. Wolf's shutdown order was more restrictive than federal guidelines, resulting in more business closures.
The General Assembly should review the recommended changes included in the audit to determine what needs to be done to prevent a repeat in any future emergencies.
Hearing Explores Positive Experiences of Local Governments During COVID-19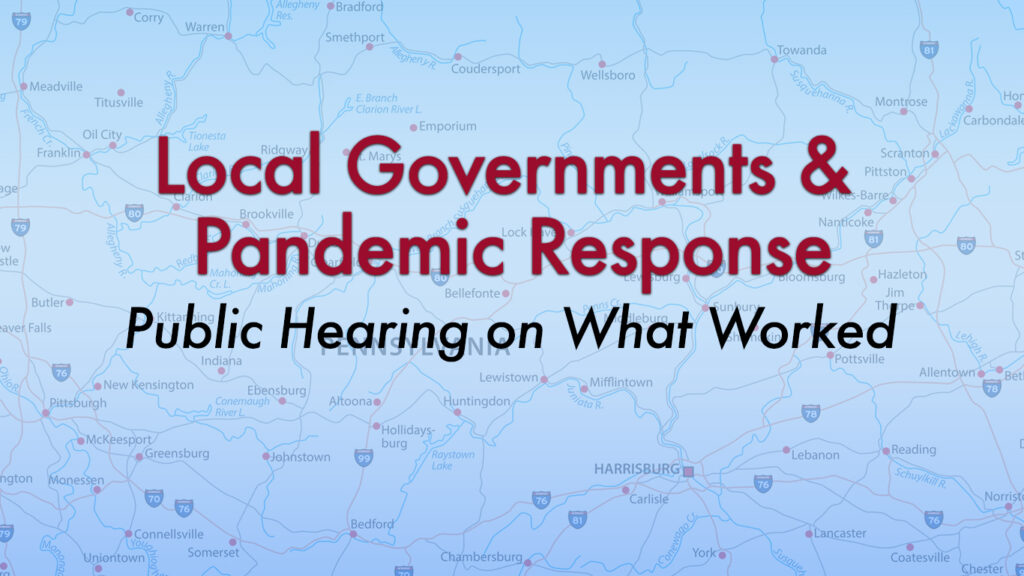 The Senate and House Local Government committees held a joint hearing exploring the positives experienced by local government entities during the COVID-19 pandemic.
Testifiers described the transition to virtual and hybrid meetings, technological advancements in conducting municipal business with the public and other government organizations and improved transparency. They also highlighted ways the pandemic led them to make regulatory changes, improve efficiency and modernize procedures.
You can view hearing video and written testimony here.
PA National Guard Associations 2021 Annual Conference
The 2021 Pennsylvania National Guard Associations Annual Conference will take place Friday, November 12th through Saturday, November 13th at the Lancaster County Convention Center. The two day event will feature a college and career fair, professional development opportunities, certification opportunities, a military trade show, banquet and an awards ceremony. Find our more information and register here.
Senate Panel Votes to Issue Subpoenas for Election-Related Documents from Department of State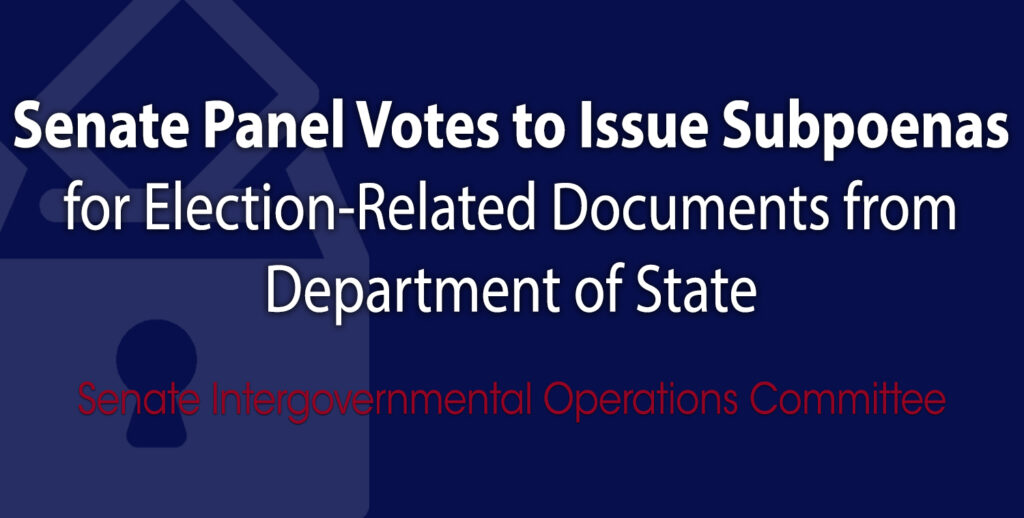 To continue its legislative investigation into the integrity of recent elections, the Senate Intergovernmental Operations Committee voted to issue subpoenas for a variety of materials from the Pennsylvania Department of State.
Department of State officials were invited to testify at a hearing last week to discuss controversial guidance issued to counties in the final weeks and days leading up to the 2020 General Election. The subpoenas were approved after the department refused to participate or answer questions posed by the committee.
The subpoenas will include all guidance issued to counties, as well as all communications between the department and county election officials. All training materials, copies of all guidance and directives to counties are also included.
The committee also approved subpoenas for key voter data, including lists of all registered voters, voter activity, the method by which voters cast their ballots, and changes in voter registration. The registration and voter lists will help paint a more complete picture of Pennsylvania's election system to allow for positive changes to existing law.
The voter information will be under strict security protocols to ensure the data is not shared, mishandled or misused in any way.
Committee Discusses Ways to Preserve Life-Saving Care Provided by Firefighters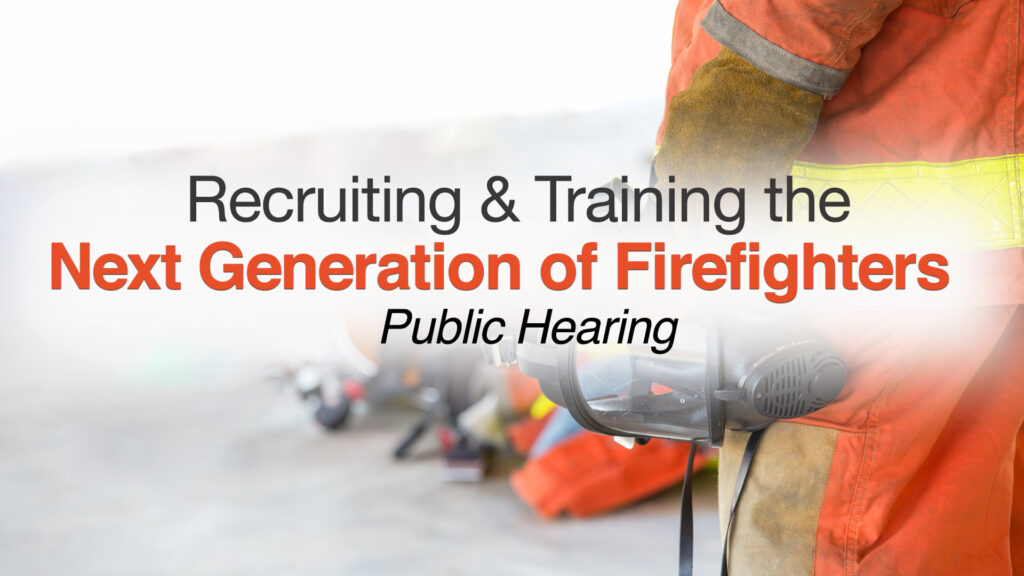 The Senate Veterans Affairs & Emergency Preparedness Committee held a public hearing to listen to fire chiefs, firefighters and others about how to improve recruitment and retention of the next generation of volunteer firefighters across Pennsylvania.
In addition to explaining the impact of funding challenges, testifiers highlighted the need for communities to work together in support of first responders to preserve critical access to life-saving care for all Pennsylvanians.
In the 1970s, Pennsylvania boasted 300,000 volunteer firefighters. Today, that number is fewer than 40,000. To help bolster those ranks, the Senate this year passed Senate Bill 83, which would provide grants to establish fire training programs for students during the school year with the hope they will remain firefighters for years to come.
You can view hearing video and written testimony here.
Proposed New Nursing Home Regulations Examined by Senate Committees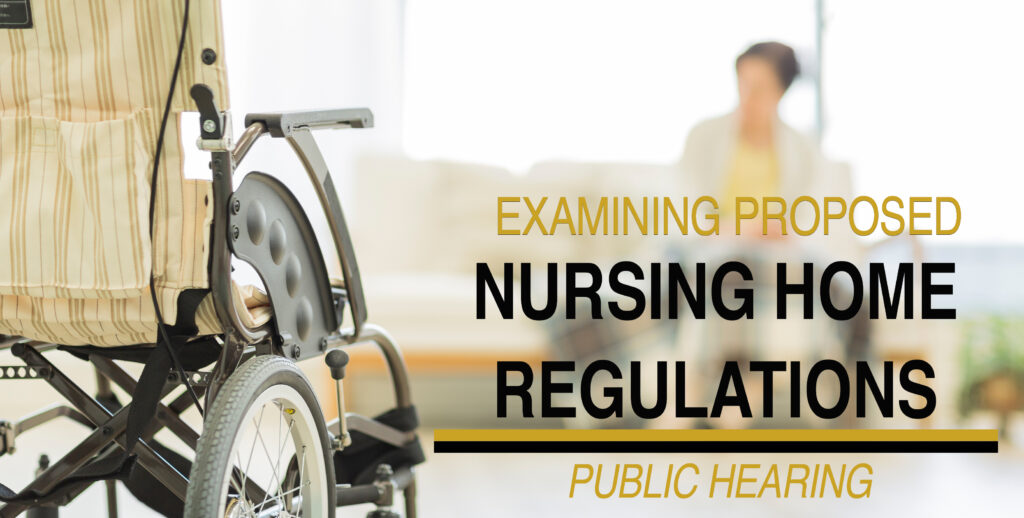 The Senate Health & Human Services Committee and the Aging & Youth Committee held a joint hearing to examine new regulations for long-term care nursing facilities being proposed by the Wolf Administration.
The committees brought together administration officials as well as industry experts and others to provide feedback on the proposed regulations, which the administration says is the first in a series of proposed changes that will be combined to create a final, comprehensive regulatory package.
You can view hearing video and written testimony here.
Scammers Continue to Exploit COVID-19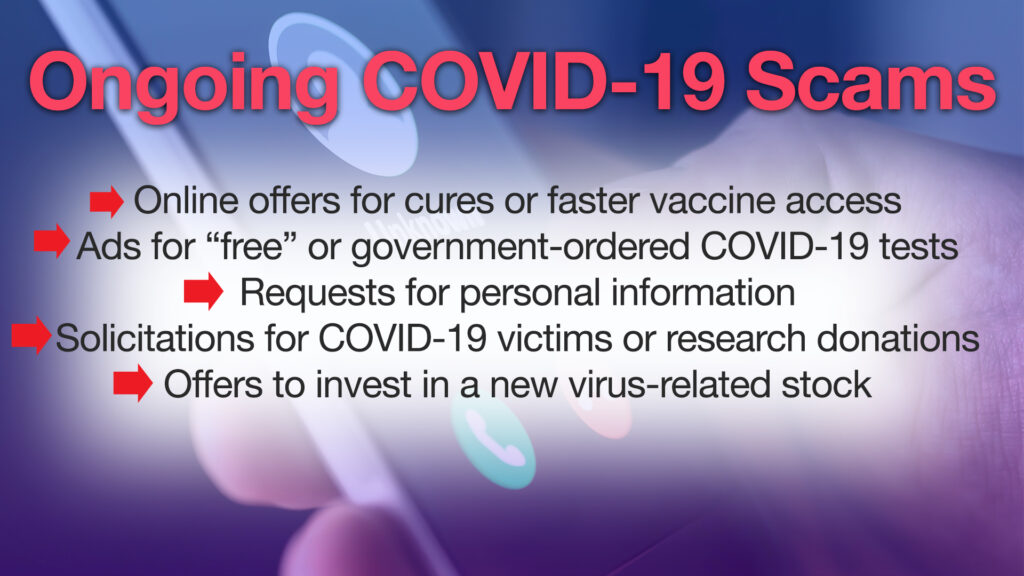 Since the start of the pandemic, fraudsters have been trying to exploit it for financial gain. The arrival of vaccines changed the nature of the scams but did not eliminate them.
The U.S. Department of Health and Human Services says consumers should be on the lookout for these signs of vaccine scams:
Requests that you pay out of pocket to receive a shot
Ads for vaccines in websites, social media posts, emails or phone calls
Marketers offering to sell or ship doses of COVID-19 vaccines
Other scams have sought to steal stimulus money, while the FBI says con artists advertise fake COVID-19 antibody tests in hopes of harvesting personal information they can use in identity theft or health insurance scams. AARP has the latest information on pandemic-related scams.
September is National Literacy Month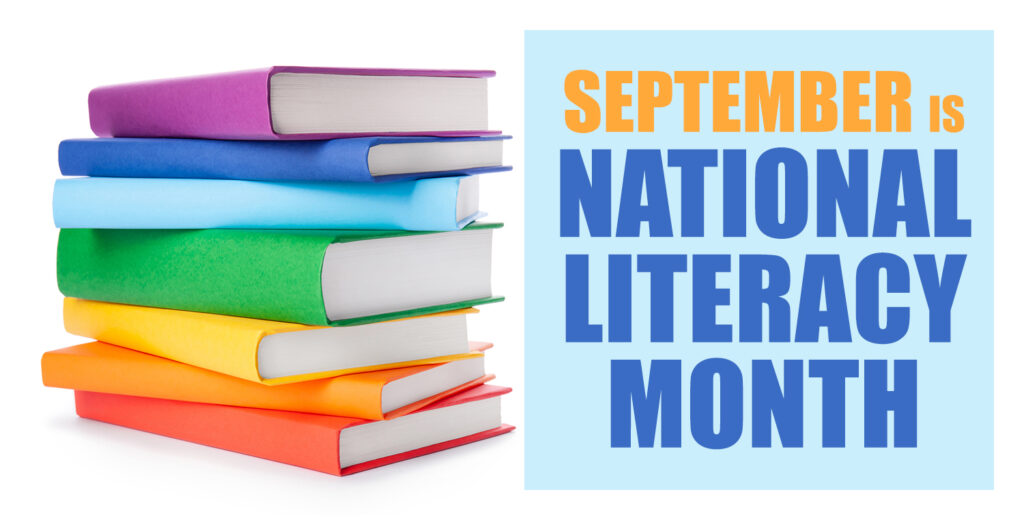 Children who learn good reading habits are more likely to develop a lifelong love of reading, which supports early writing and reading skills and builds their vocabulary. Here's to exploring the world through reading during National Literacy Month and year round.
Around the 40th District
Last week, I attended multiple events commemorating the 20th anniversary of one of the worst days in our nation's history. On 9/11/2001, nearly 3,000 innocent Americans were killed in devastating terrorist attacks in New York City, Washington D.C. and in Shanksville, Pennsylvania.
All of those we lost that day were honored and remembered in ceremonies and observances all across the country. Keep the victims in your hearts always and remember their families who lost their loved ones that fateful day. And never forget the bravery of the first responders who selflessly ran into the danger to assist the victims in anyway they could. Keep them in your prayers and never allow them to be forgotten.
On Monday morning, I began my week on the beautiful east shore of Minsi Lake. I was there to take part in a ribbon cutting ceremony for yet another improvement that has been made at the lake. This time it was for the adaptive kayak launch and fishing piers that were recently added. I was joined by Northampton County Executive Lamont McClure, Superintendent of Parks & Recreation Bryan Cope, representatives from Team River Runner and BoardSafe Docks, as well as members of the Friends of Minsi Lake group. These important improvements ensure that the lake is accessible to everyone regardless of ability.
Minsi Lake continues to be a shining example of what can be accomplished when we all work together on a project. It is a true story of success where county government, state government, private sector companies, and volunteer groups work as one to continue to improve the lake for generations to come. When I first entered the Senate and became chairman of the Game and Fisheries Committee funding for the lake's spillway project was stalled and the lake was in jeopardy of being drained and lost forever. I worked with Rep. Joe Emrick to release those funds and have worked hand-in-hand with the partners above to continue to move the lake forward, so that Lake Minsi is there for future generations of Pennsylvanians.
I joined Congressman Matt Cartwright, Rep. Rosemary Brown and Rep. Maureen Madden along with the Pocono Mountain School District Superintendent, Elizabeth Robinson, along with several school board members and administrators of departments to discuss the current Pocono Mountain School District funding, federal relief dollar usage, COVID efforts and overall state of affairs.
This week I had the opportunity to learn more about Ben Franklin Technology Partners of Northeastern PA. Ben Franklin Technology Partners of Northeastern Pennsylvania (BFTP/NEP) invests in and supports companies to create and retain highly paid, sustainable jobs, catalyze technology-based economic growth in northeastern Pennsylvania, and advance technologies that improve the human condition.
BFTP/NEP serves a 21 county region in Pennsylvania including Monroe and Northampton counties. Since 1983 they have helped 520 companies start, created over 18,000 new jobs, and have helped raise $1.56 billion in follow-on investment. Impressively they see a $3.90 return to the Commonwealth on every dollar invested.
Monday I visited their headquarters and incubator/post-incubator facility on Lehigh University's Mountaintop Campus in Bethlehem. I also received a tour of Effort Foundry in Bath by CEO Charles Hamburg. Effort Foundry is just one of many companies in the 40th District that has benefitted by their partnership with BFTP. Also pictured with us is Douglas Engler BFTP/NEP's Lehigh Valley Regional manager and their Chief Investment Officer.