In This Update:
Senate Leaders Appeal Election Case to U.S. Supreme Court
Committee Discusses Future of Telemedicine in Pennsylvania
Lookout Fire Co. #1 to Hold Open House
Fall/Winter Trout Stocking to Extend Fishing Opportunities
Grants Available for Environmental Education Projects
Motorcycle Safety Courses Resume
REMINDER: Mental Health Resources Available for Pennsylvanians in Need
New Scam Targets SNAP Assistance Program
---
Senate Leaders Appeal Election Case to U.S. Supreme Court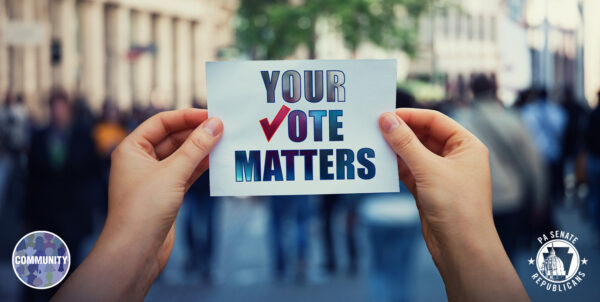 Last year, leaders of both parties in the Senate and the House of Representatives worked together to strengthen our state's election law with the most comprehensive reforms in at least 80 years. In advance of this year's General Election on November 3, all parties had been working in good faith once again to address new issues that could prevent a complete, timely and fair count of ballots.
Unfortunately, a recent ruling by the Pennsylvania Supreme Court introduced new risks to election security and unraveled weeks of progress in negotiations between lawmakers and the Wolf Administration. It is disappointing that the state Supreme Court has muddied the voting process and created questions about the fairness of the forthcoming results, including a new requirement to count ballots received by county election boards up to three days after Election Day – a clear infringement of the General Assembly's right to determine the time, place and manner of elections.
This week, Senate leaders appealed the case to the U.S. Supreme Court and requested a stay of the court's ruling so we can resume our work to ensure every Pennsylvanian has an opportunity to vote – and give everyone the peace of mind to know that their vote is counted fairly and in a timely manner.
Committee Discusses Future of Telemedicine in Pennsylvania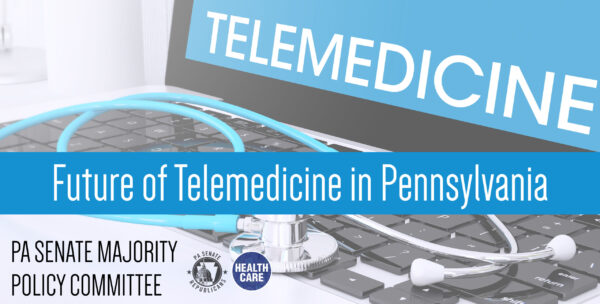 Telemedicine services were authorized in Pennsylvania on a temporary basis at the beginning of the COVID-19 pandemic, and these services have played a critical role in ensuring patients could continue to access medical services without gathering in waiting rooms and other areas where the virus could easily spread. This week, the Senate Majority Policy Committee hosted a workshop discussion to gather input on the future of telemedicine in Pennsylvania.
During the discussion, medical experts and other stakeholders spoke at length about the benefits of telemedicine to patients, and they encouraged lawmakers and Governor Wolf to approve a new telemedicine law to ensure these services can continue even after the COVID-19 pandemic has subsided.
Lawmakers approved a bill authorizing telemedicine in Pennsylvania on a permanent basis in April, but Governor Wolf vetoed the bill.
Lookout Fire Co. #1 to Hold Open House
The Lookout Fire Co. in Pen Argyl will be holding a Fire Protection Open House on Monday, October 5th from 6:00 – 8:00 p.m. They are located at 123 S. Main Street right across from Weona Park. Fire equipment will be on display and there will be free fire prevention handouts and light refreshments available. The event will be held primarily outdoors and CDC guidelines will be followed. Those attending are asked to wear a mask and follow all CDC guidelines. Feel free to bring the entire family for an educational experience!
Fall/Winter Trout Stocking to Extend Fishing Opportunities
The summer season may be winding to a close, but some great trout fishing opportunities are about to open on dozens of Pennsylvania waterways this fall and winter.
Beginning the week of October 1 and continuing through mid-December, the Pennsylvania Fish and Boat Commission (PFBC) will stock approximately 120,000 hatchery raised adult Rainbow, Brown and Brook Trout in more than 100 streams and lakes. These stockings will replenish some of the most popular fishing spots across the Commonwealth immediately and provide ice fishing opportunities as conditions allow throughout the winter.
To connect anglers with these trout fishing opportunities, the PFBC has published a list of dates and locations on the PFBC website which indicates the week during which the stocking will occur. Locally both Minsi Lake and the Bushkill Creek will be stocked. This measure aims to provide some stocking information while continuing to discourage large gatherings planned around specific stocking events. All fall and winter trout stockings will occur Monday through Friday. The stocking schedule is subject to change due to local water conditions and other factors.
Grants Available for Environmental Education Projects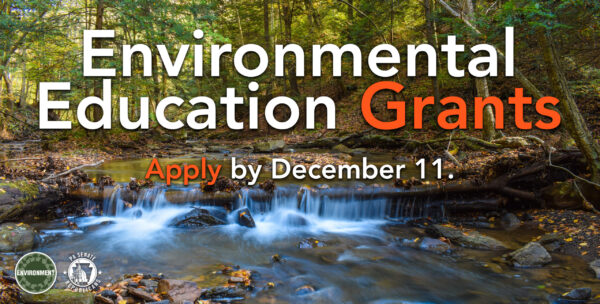 Youth and adult environmental education projects may be eligible for grant funding from the state Department of Environmental Protection. Schools, colleges, nonprofit community and environmental organizations, county conservation districts and businesses are encouraged to apply for Environmental Education Grants by December 11.
A special webinar is scheduled for October 14 from 1 p.m. until 2:30 p.m. to provide additional information on how to apply. Registration is required. Registration and more details are available here.
Motorcycle Safety Courses Resume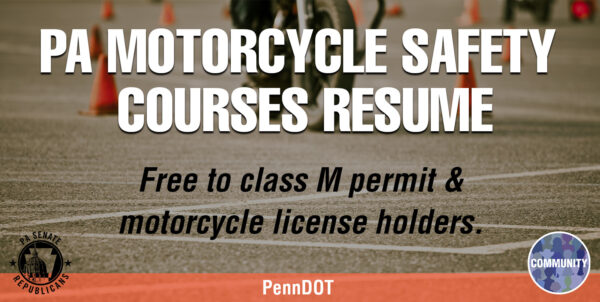 Pennsylvania Motorcycle Safety Program classes are set to resume statewide through the end of the year with new safety measures in place to protect against COVID-19. The classes are free to Pennsylvania motorcycle permit and license holders. Completing the basic or intermediate course waives the requirement for a permit holder to complete the skills test at a PennDOT Driver License Center.
A list of locations and training providers is available online, and virtual training is also available for individuals under the age of 18.
REMINDER: Mental Health Resources Available for Pennsylvanians in Need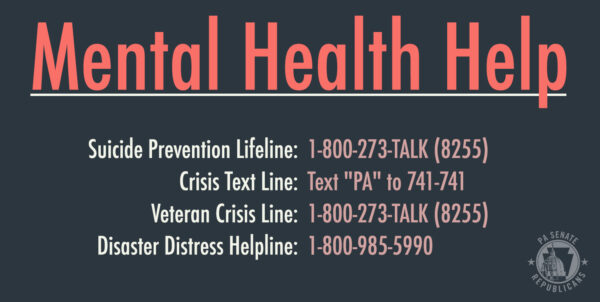 Pennsylvanians who are struggling with mental health issues can find help through a variety of different avenues. If you or someone you know are experiencing a mental health crisis, help is available by calling the National Suicide Prevention Lifeline at 1-800-273-8255 or by texting "PA" to the Mental Health Crisis Text Line at 741741.
Pennsylvania residents can also call the PA Support & Referral Helpline at 1-855-284-2494. More information on mental health resources is available here.
New Scam Targets SNAP Assistance Program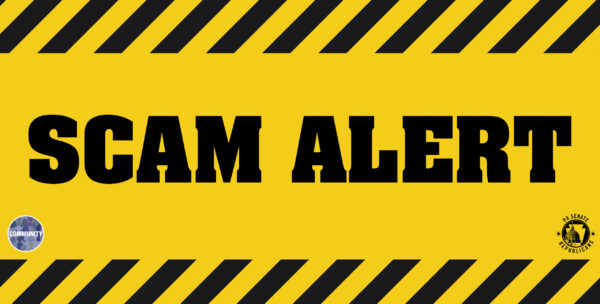 Community residents should be aware of a new scam involving the Supplemental Nutrition Assistance Program (SNAP). The scam involves text messages telling the recipient that they have been selected to receive assistance through SNAP and requesting personal information that is later used to commit fraud.
Government agencies do not solicit participation in assistance programs like SNAP through text messages. If you ever have a question about whether a call, text, letter or other communication is legitimate, questions can be directed to the Statewide Customer Service Center at 1-877-395-8930.