In this Update:
Wolf Administration Declines Request to Discuss Election Reform
Sign Up for Election Investigation Updates Direct to Your Email
Veterans Assistance Office Hours
Consumer and Economic Impacts of Failing to Invest in PA's Natural Gas Infrastructure
October is Breast Cancer Awareness Month
Celebrating Farmers on October 12
Around the 40th District
---
Wolf Administration Declines Request to Discuss Election Reform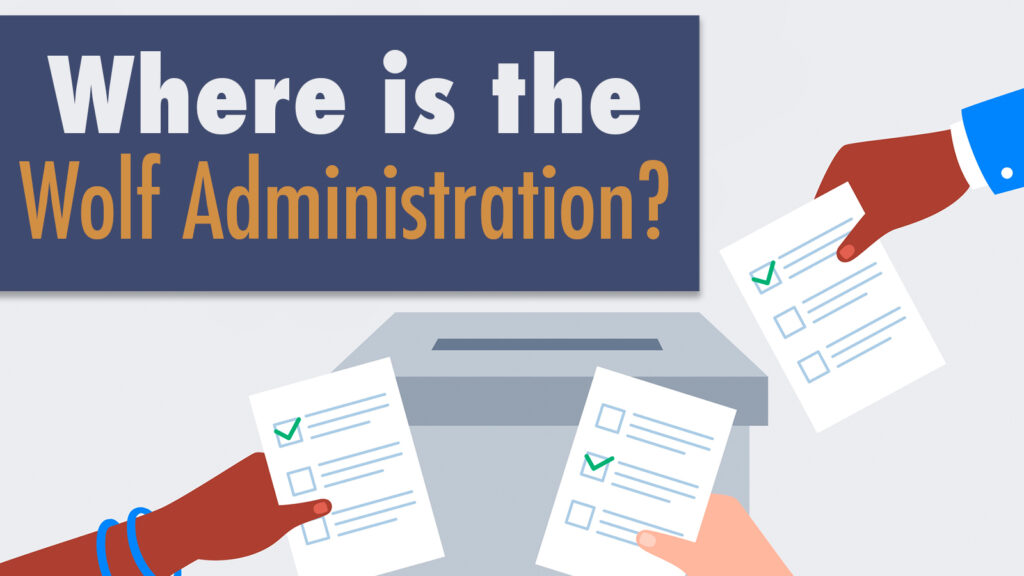 The Senate State Government Committee held a public hearing about election reform and integrity. Unfortunately, for the second time in two weeks, Acting Secretary of the Commonwealth Veronica Degraffenreid and other officials from the governor's Department of State failed to attend.
They were invited to discuss Senate Bill 878, a bipartisan bill that would implement recommendations of the bipartisan Senate Special Committee on Election Integrity and Reform, after previously agreeing to attend.
Some of the recommendations incorporated in the bill include tracking and transparent counting of mail-in ballots, real-time reporting of deceased voters, elimination of a permanent mail-in ballot list and more.
Sign Up for Election Investigation Updates Direct to Your Email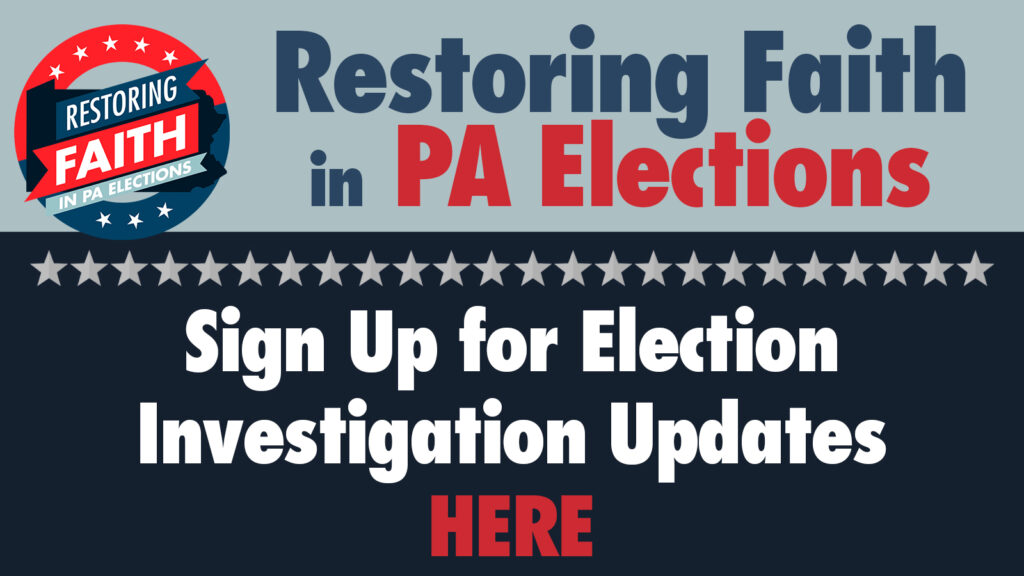 With many constituents requesting more information about the Election Investigation, a new resource has been made available from the Senate Intergovernmental Operations Committee. In an effort to be fully transparent, the Committee will send regular email updates directly to you so you can stay up to date.
If you are interested in having exclusive content, timely news, and relevant updates delivered directly to your inbox, please sign up for "Inside the Election Investigation" email updates here.
Veterans Assistance Office Hours
Veterans Assistance office hours are available at both of my district offices. During the pandemic, this service was still available to assist veterans but only by phone. We are thrilled to once again offer in person appointments with an American Legion Service Officer, conveniently located at my district offices. If you would like to setup an appointment for a veteran in your life please call the office which is most convenient for you. The service officer can assist you with compensation and pension claims, education benefits, enrollment in the VA health system, burial and survivor benefits, state benefits, and assistance in obtaining military personnel and medical records.
Pen Argyl Office (Northampton County):
Appointments are available on the third Wednesday of each month (Next date is 10/20/21) between the hours of 10:00 am and 2:00 pm. For appointments at the Pen Argyl office please call 610-863-1200.
Scotrun Office (Monroe County):
Appointments are available on the second Tuesday of each month (Next date is 10/12/21) between the hours of 10:00 am and 2:30 pm. For appointments at the Scotrun office please call 570-620-4326.
Consumer and Economic Impacts of Failing to Invest in PA's Natural Gas Infrastructure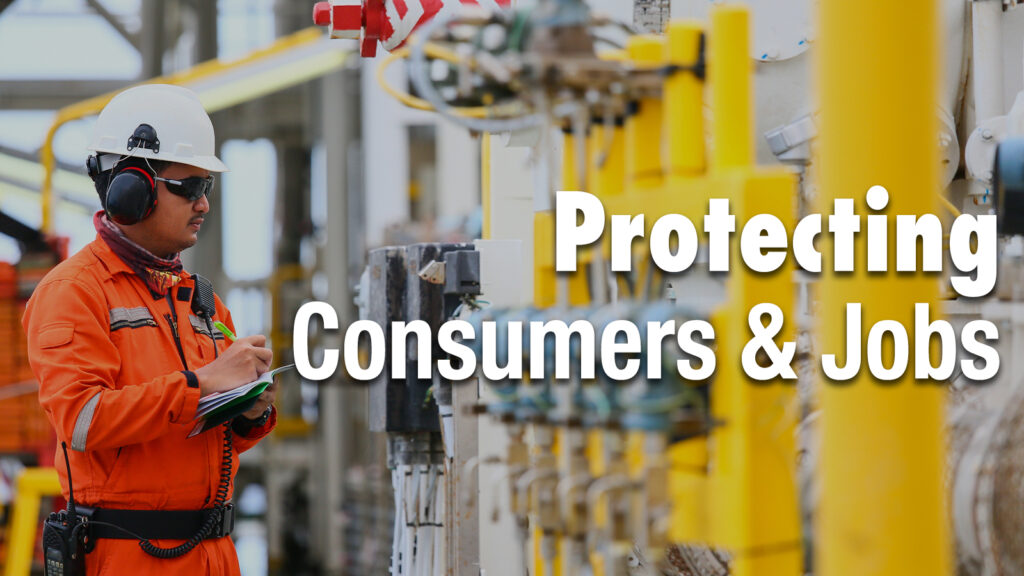 The Senate Community, Economic & Recreational Development Committee and the Environmental Resources & Energy Committee held a joint hearing to examine the consumer and economic impacts of failing to invest in the state's natural gas infrastructure.
The committees brought together industry experts and others to provide feedback on labor, economic development and consumer protection.
View hearing video and written testimony here.
October is Breast Cancer Awareness Month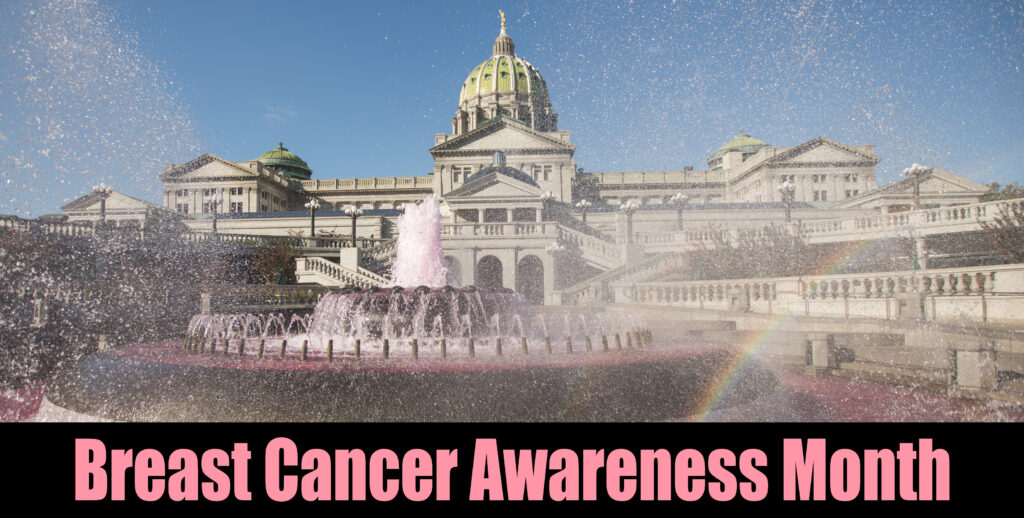 About one in eight U.S. women will develop invasive breast cancer during her lifetime. Breast Cancer Awareness Month is a good time to learn about breast cancer risk and how to lower it.
In an effort to highlight this deadly disease and the steps that can be taken to be proactive against it, the Capitol fountain was again turned pink for the month of October. Women who have lost income or health insurance because of COVID-19 may qualify for free breast screening and diagnostic services. Learn more here.
To help combat this deadly disease, the legislature passed a new law to give Pennsylvania residents renewing their vehicle registration or driver's license an option to donate to the Pennsylvania Breast Cancer Coalition.
Celebrating Farmers on Oct. 12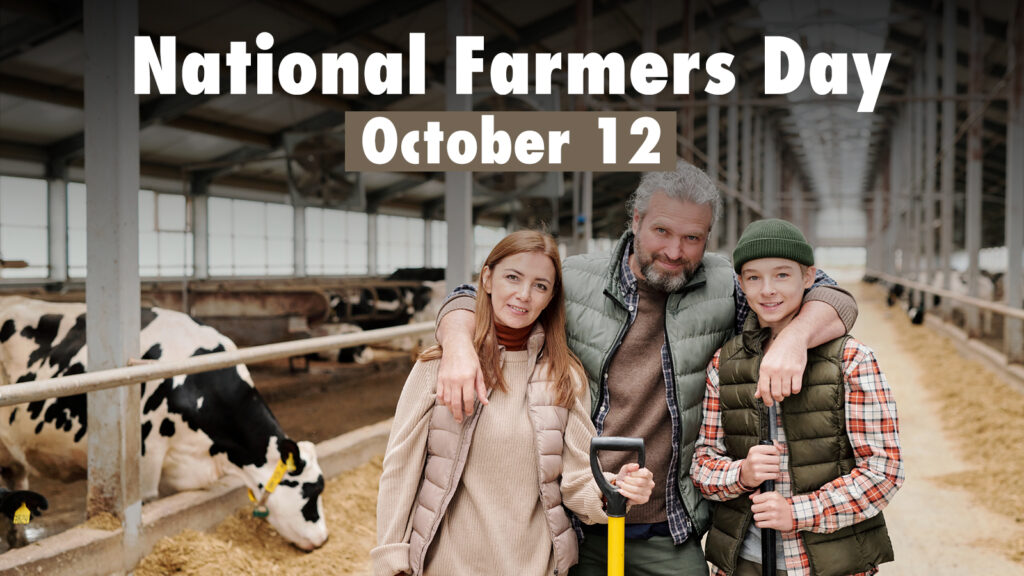 Tuesday, Oct. 12, is National Farmers Day, recognizing the heritage and indispensable work of the men and women behind Pennsylvania's number-one industry.
If you want to show your appreciation for the folks who feed Pennsylvania, America and the world, you can read about a farmer or shop at a local farmers market.
Around the 40th District
Next week, on Thursday, October 14th the East Stroudsburg Salvation Army will be holding the 2021 Harvest Festival & Auction. This year they are honoring Charlie and Vincent Trapasso with the 6th Annual Ann & Joseph Farda Community Service Award.
Virtual Auction bidding begins October 14th and runs through October 21st. An in-person auction item preview will be available Oct. 14th from 5-7pm at the Salvation Army Gymnasium in East Stroudsburg. Click here to preview auction items and to donate. The video presentation and auction will "go live" on October 14th.
This week, I spoke at a Lunch and Learn event held by residents of the Willow Green Community in Allen Township. We mainly spoke about property tax reform but also discussed warehouse proliferation in Northampton County and the pandemic response. It is always great to be invited to these types of meetings and to be able to speak to constituents and take questions in person about the topics they care about. Thank you for having me!
I was so happy to participate in the 100th anniversary of the Bangor Public Library on Sunday.
The Bangor Public Library was founded in 1921 by the Bangor Women's Club. After many years of fundraising the library was finally opened to serve Bangor and the surrounding economic community. The library was a cultural focus of the community.
The library was located on North First Street – next to the current police station – in a building that has since been torn down. The library moved two more times by 1939. In 1940 the library moved to our current location at the corner of Broadway, South Main and Erdman Avenue. This building was built in 1890 as the home of the Merchants National Bank of Bangor. The cost of the original building was $6,400. In 1939 Robert Steinmetz gave the building to the Borough of Bangor to be used as a public library and as the home of the Bangor Women's Club. Due to lack of space the Women's Club no longer meets in the building. Best wishes for the next 100 years!
Please join me in congratulating two new Eagle Scouts in the 40th District, Eric Reagle and Jack Mazza! I recently attended both of their Court of Honor ceremonies and presented each with a senate citation. Congratulations Eric and Jack!!
Wonderful to begin the day on Tuesday at the 26th Annual Pocono Leadership Prayer Breakfast at Mount Airy Resort. At the breakfast we heard the wonderful life story of Anne Beiler of Aunt Anne's Pretzels. Such a special morning to come together in prayer as a community.